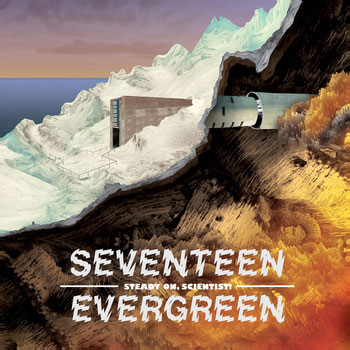 Five years after the release of their debut LP, Life Embarrasses Me On Planet Earth, San Francisco's Seventeen Evergreen have made a return with new album 'Steady On, Scientist!', via Lucky Number.
The album is about space and density – the polarity and the duplicity of life. Names like New Order, Air, Screamadelica-era Primal Scream, Sonic Youth or Flaming Lips may come to mind, but sonically and spiritually, it's a singularly triumphant and liberating concoction, an anthemic vision. Like their debut, Steady On, Scientist! it is entirely self-written, recorded and produced and, once again, it emphasises its creator's clear and unique identity, away from the pack.
To accompany the release, Seventeen Evergreen have collaborated with long-term creative partner Antoine Boilevin to create a visual album trailer – a forcefully kaleidoscopic immersion into the mini-verse of Seventeen Evergreen's new album.
'Steady On, Scientist!' is released on April 16 through Lucky Number.