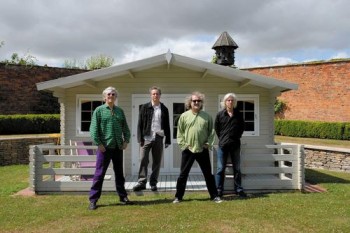 – CLUB ACADEMY, MANCHESTER –
Although Robyn Hitchcock has been releasing records since 1981, I have to be honest that he has only just come to my attention with the release of his latest album, 'Propeller Time'. I heard 'Sickie Boy' – the latest single from the album – on BBC 6 Music, and the image it created in my mind was of early 90s jangly pop, but that is far from the reality I am currently experiencing on a Sunday night underneath the Mancheter SU.
It looks to me that the audience would feel more at home sampling dark hoppy brews in one of Manchester's many real ale pubs rather than the canned Red Stripe and flat cask bitter on offer here tonight. They are mostly seated and all aged over 40 and the music on offer is perhaps a reflection of that demographic, no particular fashion, no specific style. Individual.
We start with a solo tribute to Syd Barrett and Robyn is then quickly joined by his band mates – the Venus 3 – who bring a minimalist drum kit, a bass and a cello to the stage. "Just how many tracks can have a cello on them," I think to myself. Well, all of them is the simple answer. And what a great sound it is, blending in so well with the eclectic mix produced by Robyn and the other two band members while bringing a certain degree of serenity to the proceedings.
Every musical style is present here – reggae, groove, blues, punk and rock – all interspersed with Robyn's witticisms and random ramblings. What I thought would be quite a dull night is turning out to be a most enjoyable affair. The entertainment is not only confined to the stage as, somewhat surprisingly, a drunk couple in the audience are boogieing away. It feels like this odd scene could turn a little ugly as the bloke loses his footing and disappears audience right, only to reappear moments later, sporting a grin.
Someone else in the audience, who has obviously been slightly perturbed by this blatant show of enjoyment, wants to express himself too and starts a dance off, flailing like he has just been attached to a ring-main. Drunk bloke obviously feels that he can't compete with this and he quickly submits to defeat.
As Robyn regains my full attention I realise that he is playing a storming gig. 'When You Are Dead' and 'Red Locust Frenzy' are a couple of the standout tracks for me, while 'Insanely Jealous Of You' – a song from his previous band, The Softboys – made me want to tap my broken leg.
I assumed that tonight's gig would be a promotion of the new album, but it isn't turning out that way. In fact, as the evening draws to a close, I realise he hasn't played a single track from 'Propeller Time'. This leaves me wondering if this is the difference between the new regime of eager-to-please artists and the old guard, of which Robyn can certainly count himself a member.
I'm not sure whether his appeal is born out of his obvious confidence to do what he wants rather then what others want him to do or maybe it is just that Robyn feels that he has nothing to prove? What is really good about Robyn and his music is that he clearly inspires his followers to feel the same way.
And not only does his music stimulate you, but his 'chat' in between the songs does as well. For example, at one point Robyn sparks up: "If you asked me what my favourite guitar pedal is, I would have to say the tremelo, because it sounds of love." And he is absolutely right, when he launches into the next track, it does.
I could list the other well established artists who have recorded with him in the past or the Manchester legend who co-wrote his latest single, but I won't, you need to find that out for yourselves. Go grab yourself his new album and then grab a few of his other ones too, there are loads.