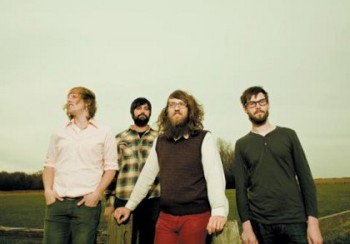 Formed in 2004, the technical ability and deft musicality displayed in the Chicago quartet's early EP releases saw Maps & Atlases labelled with a 'math-rock'/ 'post-rock' tag, but the band have consistently defied easy categorization – perhaps a factor in engendering such a fervently loyal fanbase .
Beware and Be Grateful – recorded last year in a series of week-long sessions at Omaha's ARC Studios with producer Jason Cupp (The Elected, Nurses, Good Old War) – continues their steady migration into pop territory.
Explains lead singer David Davison "The process was somewhat of a continuation of what we were doing with Perch Patchwork but I think that we tried extra hard to pay attention to the instincts of each song. We tried to let them unfold themselves and see what each song was doing and then run with that. I think we also embraced a sense of looseness with these songs. We let them run wild a little instead of trying to tie them up nicely."
This non-proscriptive approach informs Beware and Be Grateful, the free experimentation resulting in mellifluous harmonies, percolating rhythms and even – gasp – a full-on guitar solo on album centerpiece 'Silver Self'. Songs like 'Remote And Dark Years' and 'Fever' are gloriously fluid, but the tight kinetic rhythms never obstuficate the impulse toward catchy, asymmetrical pop.  Self-assured and astonishingly ambitious, Beware and Be Grateful marks Maps & Atlases' most fully realized collection to date.
Maps & Atlases: David Davison (vocals, guitar), Shiraz Dada (bass), Chris Hainey (drums), and Erin Elders (guitar).
Last seen in the UK in 2010 on a sold out tour in support of acclaimed debut Perch Patchwork, the band return for dates in April as follows:
16 Mon BRISTOL Cooler
17 Tue LONDON Garage
18 Wed MANCHESTER Night and Day
19 Thu GLASGOW Nice 'N Sleazy
20 Fri LEEDS Brudenell
'Fever' New Single, available on 7" & Download
7" limited edition of 100 hand-stamped copies available exclusively via
fat-cat.co.uk/ mapsandatlases.org – or from the merch desk on the road!
Available from 23rd April (7FAT111/ ds7fat111)