From time to time, one of our contributors will recommend an artist/band they think deserves to be brought to your attention. No record labels, PR companies, bands or band's management will ever have made these recommendations. It is simply one music fan putting their taste on the line in the hope of sharing good music. The questions are intended to give just a basic introduction to possibly your new favourite artist/band.
So without further ado, let's crack on with another introduction, in which Silent Radio's Lucy Brown recommends CLEFT for your audible delectation.
*****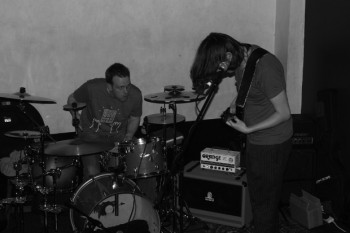 Who are ya?
Cleft are a dirty, riffy, turbo-prog two-piece band.  We make massive, filthy, instrumental music using a guitar and some drums.  Imagine a machine that compresses 14 minute songs down to 3 minutes and you're just about with us.  Dan does the guitar bit and John does the drums part.
Where are you from?
We both live in Manchester, but we are not from these parts.
How long have you been doing what you're doing now?
Cleft has been going for just over a year now.  When we started making turbo-prog we honestly didn't think anyone would like it, but the lovely feedback so far and the amount of fans we seem to be gathering is just fantastic.  Both of us have been playing in bands for around 15 years though, so there's been a lot of 'behind the scenes' work before we ended up here.
Is being a musician your full time job?
Technically no, but the amount of music stuff we both do (for free) amounts to almost a full-time job.
How would you explain your sound to someone's 90 year old grandmother?
Hello Margaret. First of all, may we just say that is rather a fetching blouse you're wearing.
We're in one of those pop groups that you have now. You might enjoy our music if you like someone putting the record on at the wrong speed, then throwing a guitar and a drum kit onto it at very precise times.   Luckily it's also very quick, as we make music for those with a short attention span (like ourselves), so you'll have plenty of time left to soothe yourself with some Glenn Miller. Also, there's no singing. This is intentional.
Love from Cleft
P.S Feel free to leave us something in your will.
Are there any obvious influences in your music?
We met on a shared love of Tool, Oceansize and The Mars Volta, though I think TMV are probably the only ones that are obvious from that list.  A lot of people have compared us to Adebisi Shank as well, although oddly enough only half of us are fans of theirs.
Probably our biggest non musical influence is things that make us laugh. We generally aim to make everything we do loads fun, at least our own twisted brand of fun. Hence the fairly idiotic song names, artwork, and perpetual fart/arse/cock jokes when gigging and rehearsing.
Are there any not so obvious influences in your music?
We listen to anything and everything. Laura Marling, Zun Zun Egui, Lamb Of God, Nick Drake, The Raconteurs, Karnivool, Kid Adrift, The Meters, Tony Allen, Syd Arthur and The Reign of Kindo are some I could mention right now, as we've been listening to them this week.  Anything that we like gets absorbed and goes into the pot, which keeps us excited about music.
Apart from yourself, what other band/artist would you recommend our readers check out?
There's some stunning stuff turning up at the moment, especially in the math/post/prog/rock scene so we couldn't just mention one band.  We would strongly advise people to listen up to Halfling's Leaf, Alpha Male Tea Party (don't get them started on sausages), Vasco Da Gama, Bearded Youth Quest, Trojan Horse, Vasquez, Town Portal and Lost In The Riots.  There's plenty more that we can't fit here as well.
Best place for people to find out what you are up to?
We are pretty active on Facebook (cleftband) and Twitter (@cleftband).  If you want to know when we are playing you can find out on our website (www.cleftband.co.uk) or follow us on Songkick.
All our music is free to download on Bandcamp – http://cleft.bandcamp.com
Our next run of gigs are taking in Leeds, Manchester, London, Brighton, Derby and hopefully a few more which are still in the booking stages.  We'd love it if you came to see us and had a chat.
Anything to declare?
This is not a drill.