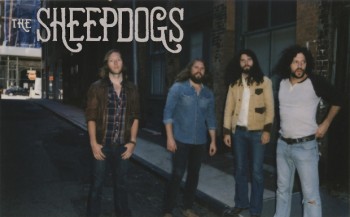 – NIGHT & DAY CAFE, MANCHESTER –
Oh Canada! Tonight's the night Saskatchewan's blues-rock four piece The Sheepdogs grace us Mancunians with their bearded presence. Having missed the opportunity to catch the boys live in Vancouver over the Christmas holidays, I was more than thrilled to find out they'd be on tour throughout the UK and even better – playing a gig at the intimate Northern Quarter venue Night & Day Café.
The Sheepdogs have gained a major following over their seven year run, and more recently been given heavy media attention after winning Rolling Stone's contest -scoring them a spot on the cover of the magazine and praise for being the first unsigned band to do so. All in all, you really can't blame me for being excited to proudly welcome a bit of Canada into Manchester tonight!
The hair-heavy rockers take the stage around half nine and begin with a bluesy five minute jam in an impressive introduction to their boogie-rock fused with the classic stylings of the 1970s. "Alright ladies and gentlemen. We are The Sheepdogs, let's get it on!" 'Southern Dreaming', 'Right On' and the stomp-friendly 'Feeling Good' engage the audience as front man Ewan Currie pumps out a powerful session on vocals.
'The One You Belong To' is a psychedelic dream with Leot Hansen's guitar transferring us back into the Summer of Love, spilling into 'Please Don't Lead Me On' and giving these Saskatoon lads nothing but positive energy to feed off of. The folks in the Night & Day are totally into it, swaying back and forth in congregation as the most polite crowd I've seen since moving here (perhaps some of that good old fashioned Canadian politeness has rubbed off on them?)
The effortless back-beat of Sam Corbett's drums are highlighted during 'I Don't Get By', with the lazy day lyrics of 'I just sit around getting high' putting a smirk on the faces in the crowd.  As the night proceeds, the vocals in 'Who' are sing-along worthy but become outshined by Ryan Gullen's melodic bass lines in the single 'The Way It Is'. The natural progression from song to song in this band is incredible, not to mention the perfectly timed harmonies that only highlight their precision and evident attention to detail. Pumping the jams out of all speakers in the house, that genuinely honest feeling of Southern hospitality is buzzing through the venue.
After the gig I have a chance to speak with bassist Ryan Gullen about how expanding The Sheepdogs' fan base outside of North America has translated for the band.
"It has been great. We don't have any egos about us, or any issues with playing smaller clubs and building things up person by person. We are a band that thrives in the live environment, so we are having a blast getting new people into our music.
England is still very new. I'm still very much a tourist in the sense that everything is exciting. I'm enjoying just taking in the scenery, the people, and the food."
And with an impressive amount of shows to finalize the UK tour and not to mention playing at some major festivals this summer, it surely keeps the boys busy. "Playing festivals, we not only get to perform in great environments but also get to see a lot of acts we want to see live. I'd have to say Bonnaroo in Tennessee [has been a favourite].  We played two years ago and it was tons of fun, plus the line up this year is crazy good."
Keeping in the kindred spirit of Southern-hospitality, The Sheepdogs were recently invited by CBC Music Canada to record at the famous Sun Studio in Memphis, Tennessee. "It was very cool experience.  CBC wanted us to do a tribute to Elvis by recording our own version of a couple of his songs to celebrate his anniversary at Sun. The studio has so much history, so it was an amazing experience to be recording in a room where such prolific artists and songs were tracked. Everything was recorded live all together, including vocals, to tape. One pass to get it right, which was nerve racking but also gave it a very natural feel. We're really happy how it turned out and looking forward to them releasing it."
Given such cool opportunities to work in the studios of the greats, I wondered if there were any major influences apparent on the new record. "I don't know if there would be any very specific influences that shine through particularly," says Gullen.  "Our last full length was recorded in our own in a house in Saskatoon where we had worked in a studio environment but not with a producer. Working with Pat [of the Black Keys], we took song ideas and stripped them down to very basic songs, focusing on the juicy parts and getting the structure that we wanted them to be.  Then we coloured them with different parts (guitar parts, keys, vocals, harmonies) and built the song up that way. It's not really a departure sound wise from our other records, but we definitely tried a few different things".
The Sheepdogs are currently up for three awards at the Juno's this year fronting the fact that their #1 EP has just been certified Gold in Canada. Jet-setting on tour, winning contests and playing festivals is bound to change a band's relationship with music once it becomes their livelihood, wouldn't you say? "It has changed our relationship but not in a bad way. Making music our only focus and job is what we always wanted and it's nice to only focus on our passion.  It certainly becomes a job in some ways in the traditional sense, and going on tour is more of a constant thing rather than a couple weeks here and there.  I feel like we've grown as musicians and artists on account of this. Plus even if it is a job, it's doing what you love.  We feel very fortunate to be able to do that."
The best part about rock is that shared ideology based around the concept of connecting with listeners and putting out music that people enjoy. So, it seems only obvious to say that tonight, The Sheepdogs put on a fantastic show. Their overall sound explores the underbelly of such a historically bona fide musical genre. They have re-enacted the zest of Zeppelin and the cry of CCR. At the height of it all, tonight's gig came without restrictions, capturing the attention of fans new and old. It is only self evident that genuine creativity and earnest songwriting have gotten these Sheepdogs where they are today.