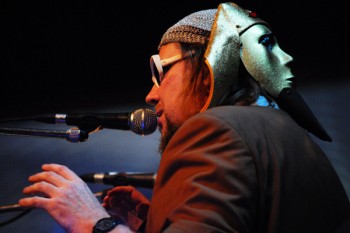 – THE BRIDGEWATER HALL, MANCHESTER –
Alarm bells are ringing. A respected character from British music history has been given the budget and stage space to indulge a passion. Yep, in every pop band there is a Damon Albarn, desperate to elevate out of the pop sphere, to do something "serious", something "worthy".
Jerry Dammers is indeed a legend – the man from The Specials, the founder of 2 Tone Records, the guy who wrote the irresistible Ghost Town and Free Nelson Mandela. Now the Musical Director of the Spatial A.K.A. Orchestra, he's on stage within the salubrious environs of The Bridgewater Hall rather than the WAG Club; these days it's less about pork pie hats and more about cultivated goatees and the stroking thereof.
Dammers conducts a full orchestra with a horn section at front, percussion at the centre and guitars and bass at the back. At times he steps out from behind his bank of keyboards and seems to gaze in wonder at what he has created, hypnotised by the music, almost as if he's forgotten to get tucked in himself.
Having said that, there's some real energy within the interpretations of the selected tracks – some from Dammers own back catalogue, amongst oddments from classical composer Erik Satie and reggae artist Cedric "Im" Brookes. Most of the music however is focused on the pioneer of jazz and outer space, Sun Ra, the subject of a recent book by publishers Headpress. And, like Sun Ra, the whole thing is utterly, deliciously bonkers: aliens with guitars, mad visuals, hectic performance. Let's face it – you can't beat a bit of jazz xylophone, especially when it's played by Tutankhamen. Even the roadies are in Ancient Egyptian Costume (I never did find out the Ancient Egyptian for "one… two… one two"). And then, just when you thought it couldn't get any madder – a lady steps onto the stage and starts jungle scatting. It's the sort of thing that would go down very well with Howard Moon from The Mighty Boosh.
When it's built on a base of dub reggae I'm with it all the way, but at times the music is tangential, jagged, fractious and discordant, deliberately so. As such it's not the end of the jazz sphere that my own goatee might usually feel at home. A kind of interplanetary space jazz jam, it is a little self-indulgent. But then again, maybe a man of Dammers stature deserves the space to role-play, the stage on which to indulge.