With only a couple of brushes with the charts over the course of a 35-year career, Stephen Duffy is no stranger to commercial failure. Yet so disheartened was he with the non-impact of his last album, 2007's Runout Groove, and the state of the music industry that he decided not to release any more records. Instead, he would merely record them for himself.
Thankfully, he subsequently had a change of heart and here releases 10 songs as The Lilac Time, the name of the folk-pop band he formed in the mid-1980s, a time when folk-pop could not have been less marketable.
Encompassing both the levity of some of Stephen's earlier music and the maturity of his later output, No Sad Songs is almost like a selective career retrospective. Happily, it boasts songs that are among Stephen's best since the 1980s.
Chief among them is 'The Wedding Song', a loving tribute to Stephen's wife Claire (a Lilac Time member since 1999) and their young child. Its exquisite melody and heartbreakingly tender last few lines just won't leave me. The song has no real chorus. It's about 10 minutes too short. It's wonderful.
Also hitting the mark is 'She Writes a Symphony', which has a dark, affecting feel. It takes me somewhere. Atmospheric album closer 'A Cat on the Long Wave' has much the same effect.
Comfortably the liveliest number is the jaunty 'Babylon Revisited', whose lyrics are an intriguing mix of political comment ("If big business paid their tax, everyone else could relax") and self-reflection ("They only dig you when you're dead"). Lines such as "We'll fight another day" and "I won't fade away" suggest welcome defiance. The 2009 documentary Memory and Desire had found Stephen looking dispirited and ready to give up the fight.
Elsewhere, the romantic title track, with its humble "You made me a man" refrain, sounds no less lovely than when it was sprung upon us as a welcome 2014 Christmas present, while 'Prussian Blue' is like a blissful summer lullaby. Only the slight yet overlong 'The Western Greyhound' disappoints.
Sound-wise, No Sad Songs is largely defined by three things. One is the eternal honesty of Stephen's vocals. The others are brother Nick Duffy's banjo, a key feature of the original Lilac Time sound, and the steel playing of Melvin Duffy (no relation), which characterises Stephen's 21st-century records.
As so often, Nick contributes an instrumental interlude, the enchanting 'Rag Tag & Bobtail'. It ends with pipe sounds that recall 1990 Lilac Time song 'Fields'. Similarly, 'She Writes a Symphony' takes its "Doo-doo-doo-doo-doo" bridge from early single 'American Eyes', a smash hit in a parallel universe. I choose to interpret such nods to the past as Stephen reconciling himself with his own career and his place in music, rather than a lack of new ideas. I hope he is proud of No Sad Songs – one of his finest ever albums – and doesn't focus too much on how many copies it sells. Last time I checked there was no surge in the sales figures for modestly successful fifty something singer-songwriters.
Looking ahead, Stephen claims to have a further 10 songs in the bank and promises us we won't have to wait another 8 years for the next record. Make sure we don't, Stephen!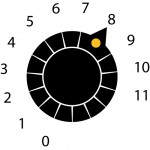 Release Date 06/04/2015 (Tapete)
The Lilac Time Official | Twitter | Soundcloud