From time to time, one of our contributors will recommend an artist/band they think deserves to be brought to your attention. No record labels, PR companies, bands or band's management will ever have made these recommendations. It is simply one music fan putting their taste on the line in the hope of sharing good music. The questions are intended to give just a basic introduction to possibly your new favourite artist/band.
So without further ado, let's crack on with another introduction, in which Silent Radio's Simon Poole recommends The Thyme Machine for your audible delectation.
*****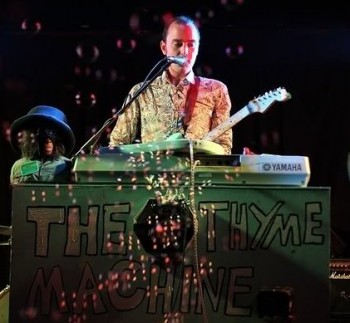 Who are ya?
My name is Tom and I am a member of The Thyme Machine. I write songs alongside singer/guitarist Kriss and play the drums when we do our shows.
Where are you from?
I'm from Lancaster in Lancashire.
How long have you been doing what you're doing now?
I've been involved with The Thyme Machine since 2011 although the band had produced an EP without me previous to this.
Is being a musician your full time job?
I guess it used to be when I was working as a Guitar teacher at The Music Spot in Lancaster. I'm currently in Australia for a couple of months and my full time job here is picking up pine cones. I can see them in my sleep…
How would you explain your sound to someone's 90 year old grandmother?
FUN.
Are there any obvious influences in your music?
Bubble Machines, Robots, Witches, Ghost Walks, Frank Sinatra, Weezer, Tricycles, Giant Party Poppers, Interesting Instruments.
Are there any not so obvious influences in your music?
The Beach Boys, Kiss, The Flaming Lips, Jeffery Lewis, Moldy Peaches, The Magnetic Fields.
Apart from yourself of course, what other band/artist would you recommend our readers check out?
If you haven't already heard them then it's well worth checking out our Lancastrian friends The Lovely Eggs. If you have then maybe you should check out our friend Stephen Hudson.
Best place for people to find out what you are up to?
www.thethymemachine.co.uk or www.facebook.com/thethymemachine
Anything to declare?
Our shows consist of lots and lots of giant party poppers. A potential health and safety nightmare.