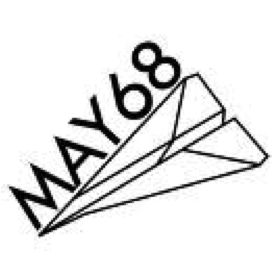 May 68 refers to a massive protest movement that occurred in France in May 1968 (of course) that marked a decisive shift towards a more sexually, spiritually, equality driven liberal society. For this Manchester band it's a decisive statement. Where most modern electro-pop bands look back to New Order for inspiration, May 68 set their gaze towards a more continental pop style, which makes for a refreshing change. Also, it's clear that they are not making music for a cerebral experience. Instead they want their fans to don the brightest, spangliest clothes and dance to their hearts' content.
Great, that's something I can really enjoy. The electro beat is awesome, and smashes into the chorus with satisfying aplomb. However, "My Ways" is a little bit too beat heavy having all the delicacy of an elephant kicking the shit out of a meerkat. I think the reason for this is that the mixer realised that the vocals were a little bit on the weak side, and decided to cover it up by over-amplifying the track's strongest elements the beat and synth parts, making for a slightly lop-sided experience.
That aside this is an incredibly promising track from a band with great potential not yet realised.