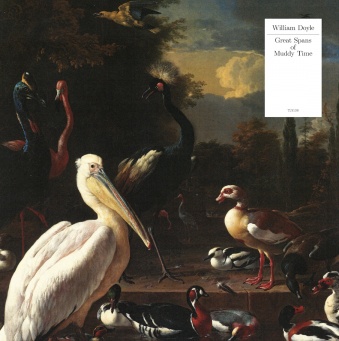 The fact that William Doyle's fourth album is here at all is a major triumph of man versus machine. Having a computer wipe most of your tunes from existence leaving just a few ideas on a trusty old tape machine was what faced Doyle during the making of 'Great Spans Of Muddy Time'. Rather than feeling weighed down by such a recording disaster, Doyle found freedom in starting again on his fourth album quest, and 'Great Spans Of Muddy Time' brims with a playfulness and cosmic creativity as a result.
The whole album morphs for one mind-melting genre to the next, yet manages to tie itself together long enough to remain a cohesive album throughout. Opener 'I Need To Keep You In My Life' has Doyle's lush vocals over gentle synths and strings with Doyle reflecting "I need to keep you in my life, to keep an image in my mind, of driving in twilight over the Pennines" it's the aural equivalent of a warm welcoming hug.
There's some sublime melodies on here reminiscent of Arcade Fire as 'And Everything Changed (But I Feel Alright) and 'Nothing At All' testify. Elsewhere there's a more playful exploratory side to Doyle's song craft as on the Can influenced 'Somewhere Totally Else' with its synth led hypnotic woozy melodies. There's a roller coaster of electronic wizardry on 'Shadowtackling' which is like Aphex Twin's more melodic and chilled sibling, whereas tracks like 'Rainfalls' and 'St Giles' Hall' have a relaxing subtlety to them with melodies which float effortlessly throughout.
The thread that binds the whole thing together is Doyle's soothing vocal tones spiced with an adventurous ear, as the sounds move from gentle and harmonious to edgy electronica. A thrilling listen from start to finish.
William Doyle – Great Spans Of Muddy Time: Out Now (Tough Love Records)