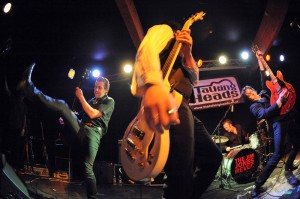 "Built to take on America" – The Jim Jones Revue
 
From their weird name to their attention-grabbing sounds, The Jim Jones Revue have been creating a buzz on the gigging circuit since they formed back in 2007.
 
With textured heavy guitars shot through with honky tonk piano and 50s rock 'n' roll, the band's truly unusual sound is one you can't afford to pass by as they help put infant Manchester venue Sound Control on the map tonight.
 
Following some US dates and ahead of their forthcoming tour, I hooked up with front man Jim and lead guitarist Rupert for a quick chat…
 
You played SXSW just last week. Was it your first time at the event?
 
Jim: Yeah, our first time at SXSW and our first time in the US. We had an amazing debut! Great gigs, great reviews. Our official showcase was chosen out of 2,000 bands as pick of the day.
 
The show itself was a big success. In the audience there were quite a few members of the rock 'n' roll aristocracy, including Sylvain Sylvain, Lenny Kaye, BP. Fallon, Clem Burke, Bob Gruen, Lisa from the Bellrays, Kid Congo and  Cheetah Chrome. Cool Shit!
 
Rupert: SXSW was total chaos and totally amazing. At our official showcase, I thought I'd been transported to CBGBs in the 70s!!!
 
Following your performance at the festival, LimeWire music blog described you as "an act that delivers solid musicianship, sharp threads […] a throwback to the greatest era of rock 'n' roll". Would you say this description fits?
 
Jim: People say the nicest things. We hadn't read that one – all that stuff is definitely a part of what we're aiming for.
 
It added that you are about to make it big in the US any minute. What do you reckon?
 
Jim: Bring it on…this band is built for it!
 
Rupert: SXSW was a great success and we'll be releasing our record there soon with more shows to follow. However, we're under no illusion breaking America is going to happen overnight, these are the first steps of a very long journey!
 
How did you guys get together?
 
Rupert: Jim and I knew each from way back – I used to promote shows for his previous band Black Moses at my club night Not The Same Old Blues Crap. We regularly discussed our mutual love of 50s rock 'n' roll and when Black Moses split we decided to get together and crash out some tunes.
 
I got Nick Jones in on drums and Elliot Mortimer, the keyboard player, was a recommendation from Ray Hanson – the guitarist in Jim's first band Thee Hypnotics and another guy Fabio played bass. Gavin Jay joined a little later.
 
The first song we played together was 'Hey, Hey, Hey, Hey' by Little Richard and it just immediately clicked and we did our first show literally a few weeks later at a friends club night which sold out.
 
Shortly after that we did a tour with Heavy Trash, so right from the get go the band quickly picked up momentum.
 
Old school rock 'n' roll is clearly a big inspiration – is there also a bit of punk in that mixture too?
 
Jim: Most definitely. Our music is inspired by the piano-driven r 'n' r of the 50s, but then dragged through all of our other influences – which include everything from Charlie Parker to the Birthday Party.
 
Rupert: For me, the punk influence is very important. It gives an edge to the swing of the 50s rockin' and vice versa.
 
Mixing these distinctive sounds is a bold move – has it been well-received?
 
Jim: People seem to understand it easily…r 'n' r is made up of two parts, the drive and the swing. The piano is an important part of that and so are the psychotic guitars.
 
Would you say the band is more influenced by British or US sounds?
 
Jim: There has always been a kind of musical conversation going back and forth between US and Britain. One inspires something new in the other, but you would have to be a fool to think the birthplace of r 'n' r was anywhere else than the American Southland.
 
Rupert: It felt at SXSW that unwittingly, we're following a fine British tradition of carrying coals to Newcastle!
 
You've supported the likes of the Dead Weather in the past – what has been your favourite opening slot so far?
 
Jim: Dead Weather was pretty cool, so was Guitar Wolf and Jon Spencer's Heavy Trash. We were lined up to do the UK tour with Chuck Berry which, in classic Chuck style, was cancelled the day before it started!
 
Rupert is the brother of Beth Orton – is he sick of being asked about this or does the connection do the band any favours?
 
Rupert: No not at all, I'm immensely proud of what Beth has achieved and I totally respect her as a musician. But we're opposite ends of the musical spectrum, so there's no real benefit.
 
Who are the best sibling musicians in rock 'n' roll?
 
Jim: Young Brothers, Davies Brothers, Sales Brothers, Neville Brothers, Wilson Brothers, Allman Brothers.
 
You're touring the UK and Europe until May – are you looking forward to it?
 
Jim: We always have great times on the road, the UK is starting to get really good for us now. Brothers and Sisters…it's time to dance !
 
Rupert: Yeah, the UK is starting cook now which is great, but we love playing Europe too, especially France and Spain.
 
The Jim Jones Revue play Sound Control on Friday 26th March 2010 and will tour the UK and France until mid-May.