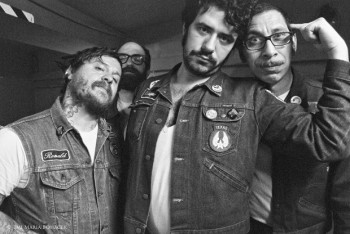 – THE DEAF INSTITUTE, MANCHESTER –
Oh what a sexy night. From the moment the first chord reverberates through the dark, expectant air Kid Congo & the Pink Monkey Birds are on a trip to crazy town, and they're taking no prisoners. Brian Tristan of The Gun Club, The Cramps and The Bad Seeds infamy is a most alluring frontman, with an elegant pencil moustache atop the longest, sleaziest smile you've ever seen. He's sexy and, yes, he knows it, captivating the crowd like a crazed cult leader with his devilish hips and fearsome energy.
With Kiki 'El Coyote' Solis on bass, Ron 'The Cap'n' Miller on drums and Jesse 'The Candyman' Roberts on guitar, the Pink Monkey Birds conjure up psychedelia-infused punk garage rock that snakes its way through voodoo, rock & roll, and 50s surf, spurring the initially inert crowd into a gyrating, frenzied thrust. "LSDC" is a raw, heavy drawl about the intrigues of Washington DC that is eerily complemented by the whining Theremin, while more playful songs such as "I Found a Peanut" and "Rare as the Yeti" enlighten the collective mood with their rakish undertones.
"La Llarona" or the "Weeping Woman" is a dark, salacious number that mourns the Mexican legend of a woman who drowns her children for the sake of her lover, only to be spurned by him and driven to suicide. Then there's "Black Santa," an elusive meander through post-rock fuzz that mesmerizes through loops and whimsical guitaring. The band are clearly not afraid to experiment with different moods and sounds within their rhetoric, creating a shifting wall of music that ebbs and crashes and crescendos underneath Tristan's rasping vocals.
Throughout the set there is a sordid tendency, with the feeling that the spirit of the music is somehow infusing itself into your consciousness to play you like a puppet.
It's all deliciously erotic, and while the cruel wind may be howling its way through the cold streets of Manchester, inside the Deaf Institute music hall we are all dancing naked on a Hawaiian beach to the beat of the "CONG-GO" drum.