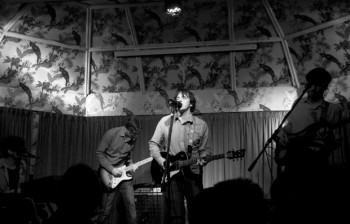 – THE DEAF INSTITUTE, MANCHESTER –
They arrived like a breath of fresh air, last summer. The hidden trendy rough gem of a venue Kraak Gallery played host to the launch of their debut album 'Open House', while a number of high profile muso's were liberally throwing their name around the airwaves, providing enough favourable quotes to fuel a sharp rise to fame. Manchester's own Driver Drive Faster now embark on a UK tour with the release of a new single and what we must assume will soon be the arrival of the 'difficult' second album. Promoters Hey! Manchester are prepared to let them loose in the far grander, but equally cool Deaf Institute, tonight.
I arrive in time to catch Golden Fable. If the instruments weren't there, you could be forgiven for thinking they were going to perform a magic show. Guitarist Tim McIver is wearing a shiny suit and Rebecca Palin stands surrounded by keyboards and beat machines, in a posh frock and fluffy white headdress. Her voice is high pitched and pure, like Dubstar at a higher octave, or maybe Blonde Redhead. When Tim's guitar is more prominent, someone sat behind me mentions The Cranberries. The highlight is an acoustic song, just guitar and Rebecca's voice, played in front of the stage without any microphones. The crowd take a while to quieten down but when they thankfully do, the skill of both vocalist and guitarist become apparent. After rapturous applause, they return to the stage to cover Manic Street Preachers 'Motorcycle Emptiness'. The conversations in the crowd build to a higher volume than before and mar an impressive set, that deserved a lot more attention.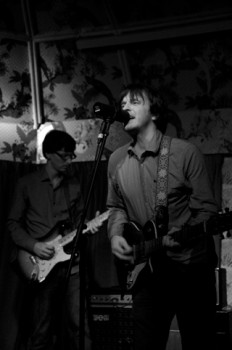 As the conversations continue and people fill up their glasses, Driver Drive Faster sneak onstage and start playing their brand of Americana folk. The warm electronic hum of 'Fall Apart' slowly turns heads during a mellow and understated intro. The new single 'To Return' follows (it's got a freaky video). What should be a stomping party starter sounds a little tinny, more bass would've given it a kick… the mood remains subdued.
Lead singer Dylan introduces the new guitarist, who (uncomfortably) receives possibly the loudest cheer of the night. Family present? Talking in the crowd is at rude levels, there's a mixed bunch of local well wishers and foreign students here tonight… the latter decide 'It's All Over And It's Everywhere' is a good tune to dance to and don't hold back. The injection of a little life works wonders, instantly inducing a friendly, lighthearted atmosphere. It's possible these revellers have arrived early for the post gig dance night 'Body Music'.
The band finish with personal favourite 'Open House', the extended ballad is another big hit tonight, they break down into a jam at the end and energetically leave the stage with no promise of an encore.
Overall, the performance was a little subdued and failed to excite at times when it should've provided something extra. I'm a huge fan of the debut album, the new single indicates there will be more of the same, though I feel inertia may halt the momentum that they had built. Hopefully, a new album will prove me wrong.