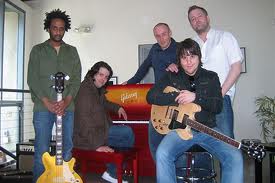 – THE ECHO ARENA, LIVERPOOL –
Band as territory. Discuss. 
I'm gonna be honest with you. Declare a vested interest, if you like. I've got a long standing love affair with Elbow. Wholly unrequited, but never mind. Each time their tours come round, I watch on with increasing incredulity thinking "It can't get any bigger than this…" And then, one Saturday evening a couple of years ago, in a large Somerset field, I stood among tens of thousands of people as they hollered along to some lines about throwing curtains wide. And it hit me. Elbow were no longer my band.
And I don't know what I felt about that. I don't know what I felt when they started to hoover up all the music industry awards going, when ,The Seldom Seen Kid, won unanimous album of the year accolades, when the Daily Mail ran stories about them ruining the England World Cup Bid. I know what I should have felt. I should have felt pride, happiness at the secret being out. And I'm no music snob, far from it. But, ashamed as I am to admit it, there was a corner of me that might have been a bit irritated. I know. Sad, aren't I?
So, I take my seat with 10,000 people of Liverpool, and I'd be lying if there isn't a note of superiority in my gaze. Like, where were you? Where were you? Where were you all? I know. Sad. A hilariously earnest conversation between a couple on my right doesn't help matters. "I mean, 'Grounds For Divorce' is a great song, but it just doesn't compare to 'One Day Like This." "Do you think they'll play that first?" "Oh yeah. Absolutely. I mean to say, you'd always play your most famous song first wouldn't you?" "Well, if they don't play it, I'm leaving." Quite. And then the lights dim.
The roar. Oh god. The roar.
And the pathetic, snobbish superiority goes. Just like that. There might even be a little lump in my throat. Look how good they've done. The point strikes me; if there were ever a band that you should experience with a whole bunch of other people, strangers, friends, family, whoever, then they just walked onto that stage. 'The Birds' makes for a brooding opener, all scratchy guitars, thumping drums and mellifluous strings. Guy Garvey heads off on the first of many trips down a walkway to a second stage in the middle of the crowd, high-fiving and hugging his crowd, the drinking man's Bono. The song winds into a hypnotic coda. It is truly spinetingling.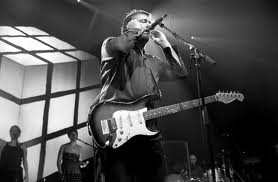 'Bones of You' fills the cavernous arena with huge fuzz bass, Garvey imploring the crowd to clap along. His transformation to consummate stadium frontman is complete. But whereas most consummate frontmen are self-serving and insincere, you get the feeling that Garvey means every word he says. "Join me in some breathing exercises. Breathe in. Aaaaaannnd out…" And they're off into 'Lippy Kids' and its gentle reminders of the endless possibilities of youth. A giant disco ball descends from above on 'Mirrorball', sending shards of light spinning around and around the arena. The front rows do the side to side arm-waving thing and, ever the everyman, Guy joins in. It's that kind of night
It's not all plain sailing. 'With Love' doesn't quite take off the way it might do, perhaps a little too repetitive, too much on one level to really appeal. 'Neat Little Rows' picks up the momentum again though, kicking in on a filthy riff, Garvey stalking the walkway as the song bursts into a chorus Coldplay might well kill for. Were they not so polite. "Don't ponder things at night. It only makes things seem worse," advises Garvey as the band gather around a single bank of keyboards, his rich tenor exposed to full effect on 'The Night Will Always Win'.
'Great Expectations' is one of the night's few concessions to anything pre-'Seldom Seen Kid' in tonight's set, but it's testament to the fact that so uniform in quality are Elbow albums, they're essentially interchangeable. Garvey takes the crowd to task on the traditional Manchester-Liverpool rivalry ("A load of shit," is the verdict. "You've just got more seagulls.") before Elbow deliver the genuine arena experience; mass sing along, blinding white lights, arty video screens and gut-busting guitar lines as 'Grounds for Divorce' rouses the lower tiers from their seats.  It's an exhilarating spectacle. In keeping with the stadium feel, 'Loneliness of the Tower Crane Driver' prompts the hoisting of a couple of cigarette lighters – old skool!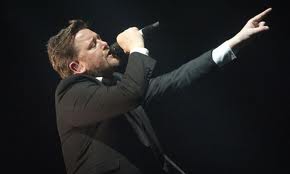 An upright piano has mysteriously appeared on the second stage, cue for Garvey and keyboard player Craig Potter to head down the walkway for a duet on 'Puncture Repair' from 2006's 'Leaders of the Free World' album, the ultimate aural manhug. Following a sombre 'Some Riot', Garvey and Potter are joined by the rest of the band. Garvey flips down the front panel of the piano to reveal a fairy-lit cocktail bar. I'm telling you, there aren't many bands that would get away with that amount of kitsch, but somehow, Elbow manage it. Just. A glass is raised to Liverpool and 'Weather to Fly' follows, with its autobiographical lyrics of hopes and dreams in Bury a well-earned moment of self-indulgence.
Garvey introduces 'Open Arms', dedicating it to the spotlit couple at in the very back row, exhorting the arena to give them a (duly dispatched) standing ovation. It's a kissing cousin to their 'most famous song', every bit as anthemic and all-encompassing as 'One Day Like This' (a quick look to my right reveals that the couple remain in place, despite the non-appearance of their favourite tune just yet). The obligatory go-off-come-back-on-for-the-encore-you-were-getting-whether-you-liked-it-or-not break done, Elbow reappear, brass instruments in hand for those horn fanfares that herald the intro to 'Starlings'. 'Station Approach' builds and builds into another one of those looping finales, Garvey back in the midst of the crowd, gesticulating emphatically.
And finally, ultimately, we're down to what, if we're being absolutely honest, a fair proportion of the crowd are waiting for. That little string motif that opens 'One Day Like This' is welcomed with a roar (that roar) that wouldn't disgrace a title-winning goal at either of the football grounds just a few miles back up the road. As it enters its final, communal, epic epilogue, Garvey jumps down from the stage for a lap of honour around the arena and up into the raised tiers, for a whole heap more high-fiving, hugging and handshakes. As he gathers with the rest of the band for final bows, he announces "We've all just decided. This has been our best gig ever." A bit of chutzpah, to be repeated ad infinitum around arenas and festival fields for the foreseeable future? Maybe, but as with everything the man says, it's said so warmly and sincerely, you can't help but believe it. What is for sure is this; always a reliable live band, Elbow have made the leap to the arena stratosphere with genuine panache. 
Now. It can't get any bigger than this. 
Can it?