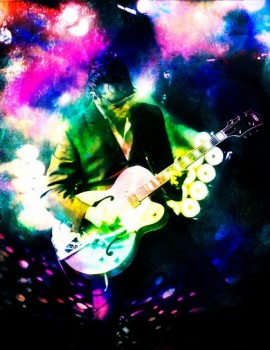 Following the success of his award-winning, hugely acclaimed 2009 album 'Truelove's Gutter', Richard Hawley will release his sixth studio album, 'Standing At The Sky's Edge' – his first for new label Parlophone – on 7th May.
Recorded at Sheffield's Yellow Arch Studio in 2011, 'Standing At The Sky's Edge' marks a seismic shift in direction for Hawley. The album is a euphoric, sonic assault on the senses, channelling elements of psychedelia, space rock and ragas with heavy riffs and raw, visceral guitar solos – as well as more familiar, tender moments – which will surprise Hawley's fans and peers alike.
Exploring lyrical themes of love, loss, redemption and darker areas of the human condition, it's an album of ominous storytelling and cosmic exploration, sung in Hawley's rich baritone and soundtracked by an epic musical journey in glorious, menacing Technicolor. In the tradition of Hawley's previous albums, the title is inspired by an area of Sheffield.
Hawley says of the album, "I wanted to get away from the orchestration of my previous records and make a live album with two guitars, bass, drums and rocket noises!"
'Standing At The Sky's Edge' is set to establish Hawley as one of the UK's greatest, contemporary guitarists.
Track listing:
1. She Brings The Sunlight
2. Standing At The Sky's Edge
3. Time Will Bring You Winter
4. Down In The Woods
5. Seek It
6. Don't Stare At The Sun
7. The Wood Collier's Grave
8. Leave Your Body Behind You
9. Before
The album will be available on CD, digital download and gatefold double vinyl.
Richard Hawley has just announced a London show – he'll play London HMV Forum on 8th June, tickets are available now fromwww.gigsandtours.com / 0844 811 0051.
He'll also be headlining the Sunday night at the No Direction Home Festival on Sunday 11th June.