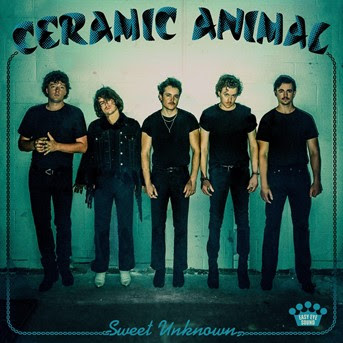 Ceramic Animal play a blues inspired rock that caught the ear of Black Keys frontman Dan Auerbach, who liked them so much he signed them to his own Easy Eye Sound label, and has produced their latest album 'Sweet Unknown'. Hailing from  Pennsylvania, the band create a lush densely melodic sound, somewhere between War On Drugs and Tame Impala yet with their own blues rock twist running throughout. The band were formed after brothers Chris (vocals, guitar) Erik (drums) and Elliott (vocals, keys) who had been writing tunes together for years, joined forces with mates Dallas (bass, vocals) and Anthony (guitar) and the harmonious guitar driven sound was born. We caught up with guitarist and vocalist Chris to find out how it's all finally falling into place for them, and what lies behind their lovelorn lyrics and 70s inspired melodic rock sounds:
Songs such as 'Tangled' and 'I Can't Wait' seem to make references to long distance love, but what actually inspired the sentiment in those songs?
"Distance is tough, and that was something I was dealing with at the time of writing. The separation from people you cared about. It's cool that you noticed that because 'I Can't Wait' does act as a kind of sibling to the tamer beginnings of the 'Tangled' story."
'Up In Smoke' is a beautiful song and seems to be about finding the courage to carry on despite having setbacks in life, but what really inspired those words?
"It was pretty much that. We wanted a bit of dichotomy between the upbeat instrumentation and the more low-key message of the lyrics. During the writing I kept referring to the vibes of The Kinks' Waterloo Sunset as an inspiration for the song's direction."
The band has an amazing blues inspired rock feel, yet there's a huge soulful element to the songs too. Growing up in Pennsylvania who were your inspirations either musically or non musically?
"I have always believed that every experience in life influences everything you create. We have tons of inspiration from the classics like Bowie, Pink Floyd, The Stones, etc. but to go with that is every life experience aggregating towards what you output."
Dan Auerbach produced your latest album 'Sweet Unknown', how did he get involved with the band?
"Easy Eye Sound reached out to us in spring of 2020, I flew down to Nashville to write with Dan in August and we immediately hit it off. When I got back home, they ended up offering us a record deal at the end of that week. It has all been so serendipitous and inspiring. It is a great honor to work with someone as esteemed as Dan but the crazy thing is how natural it feels, almost like it has already happened and we are just going through the motions."
You've previously self-released your first three albums, a lot of musicians are self releasing their music these days why did you choose to use that route?
"In today's music landscape you are kind of forced to DIY unless you know people or have connections that create backing in the industry. We didn't have any of that so we taught ourselves as much as we could about every aspect and went from there. When we were approached by the EES gang we knew it was something that we had to do."
If you weren't doing music full time, what would you be doing?
"Probably running for president."
How has the last year had an impact on your songwriting and general outlook on life?
"It has clearly impacted everyone in some way. I am just elated that we were be able to create and work towards something that we love doing during times that felt so stagnant for most. We have learned that it is imperative to keep chugging along and powering through."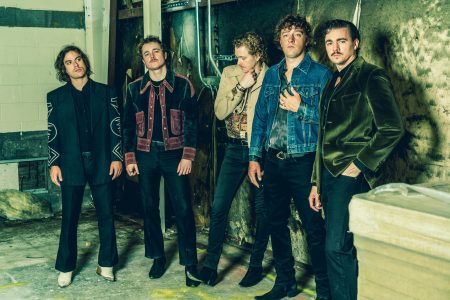 Chris, Erik and Elliott, as brothers did you start playing music together from a young age, and how did the idea to form a band emerge and get Anthony and Dallas involved in the group?
"As brothers we have always been playing together in one way or another. Anthony and I have been playing together since we were in 5th grade so it was such an obvious move to play with him. We knew Dallas for a few years before he joined but when he did everything clicked."
When you're writing, do you just record ideas initially on your phone or do you go old school and use a 4 track, and then how does it develop from there?
"On our first three albums it was all of the above. Sometimes a voice memo would be built out, other times I would sit down and layer a song to a pretty fleshed out demo. For Sweet Unknown, Dan and I sat around the table with either Angelo, Pat or Desmond at EES. I would come with some chords and lyric ideas and we would build it from there. I learned so much about song writing during that time, it was an incredible experience."
You're touring soon across USA with The Black Keys, any plans to tour the UK and how have rehearsals been going?
"Rehearsals have been great, we are carving out a great set that showcases the new album but still keeps some of the heaters from the past. We want to get over to the UK ASAP and that is for certain. It needs to happen soon."
Being on the road, you spend more time than usual with your bandmates, even though three of you are brothers, what have you discovered about each other, that you might not have realised before you started touring?
"Well my brothers and I have always been exceptionally close. Ant and Dallas are some of our best friends. If anything, the road has taught me to appreciate them that much more for what they bring to the table. We are really good at picking up where others leave off and working with our individual strong suits to make the road as smooth as possible." 
What's next for you, more songwriting, any other future projects in the pipeline?
"Been doing a lotttta song writing and got some stuff I am really excited about. We will hopefully get to working on our next EES release soon enough and I can't wait to see what we and Dan come up with on our next go around. Very exciting stuff."
Ceramic Animal: Sweet Unknown – Out Now (Easy Eye Sound Records)