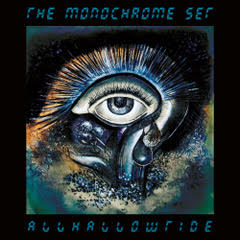 When you can count Iggy Pop, Johnny Marr, Jarvis Cocker as fans, you know you must be doing something right. After more than forty years of music making The Monochrome Set are back again with their sixteenth studio album. 
From the opening refrains of title track 'Allhallowtide' the chamber pop tone for the rest of the album has been set pretty high, with the baroque vocals of frontman Brid straddling the gap between Scott Walker and the Divine Comedy's Neil Hannon. Tracks like 'My Deep Shoreline' have a delicate folk feel matched with soothing harmonies, like cosmic americana from the London suburbs, with a hint of Glenn Campbell thrown in for good measure, whereas 'Hello, Save Me' is pure orchestral pop with lush string arrangements and a big chorus sprinkled on top.
The Monochrome Set have been consistently releasing great records over the years, which draw on elements of classic indie guitar pop and new wave, mixed with an easy listening style vocal and a country twang. One of those bands who always seem worthy of a greater following but also seem content to carry on regardless and know their songs will mean the world to those who give them the time. 'Allhallowtide' is another brilliant album from these genre defying titans, and a shining example of why The Monochrome Set are still cherished today.
The Monochrome Set – Allhallowtide: Out Now (Tapete Records)