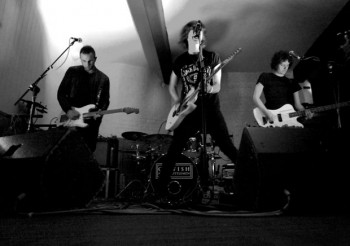 – NIGHT & DAY CAFE, MANCHESTER –
I asked a friend to accompany me to San Cisco, and he thought I was asking him out to a fancy restaurant. But San Cisco is actually a BAND (you might have guessed… this is Silent Radio after all) with a name that also apparently in no way makes reference to a similarly-named US West Coast, Summer-of-Love city. Hailing from the Western Australian coast, the four-piece is so far away from home and yet they all look so young. Half of the band – the two non-bearded members – are so baby-faced that I almost wonder whether the gig tonight at Night & Day Café was made an age 16+ for entry so that the band would not be turned away at the door from its own headline show.
I arrive at the gig as tonight's support Catfish and the Bottlemen are sound checking. Ordering some drinks, I quickly realise that the band is actually trying to start its set but is being hampered by some technical problem or other. Despite the false start, within seconds of the set proper getting going I'm thinking of some of my favourite earnest US alt. bands like The Replacements, or Uncle Tupelo doing its faster and louder stuff. It's fair to say that I'm pretty excited and I find a place near the stage.
"All the way from Wales" (Llandudno), the band comprises four young male members collectively playing two guitars, a bass and drums. The sleek and rather sexy-looking white bass guitar adorning the band's name deserves special mention. A few songs in, singer/guitarist Van McCann says sorry for the band's performance so far, and throughout the set apologises several times in good humour for perceived poor playing, which he puts down to a heavy one last night in London. The comments always manage to stay on the right side of the endearing/irritating fence, though, and I tell myself that, if this is the band off-form, I'd love to see them right on their game because I rate them the most promising young band I've seen so far this year.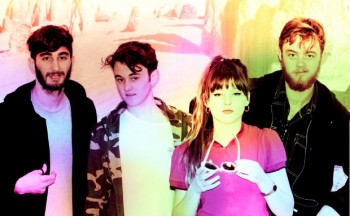 So, San Cisco have a pretty tough act to follow, but the four members arrive on stage looking confident. Both Jordi Davieson, on lead vocals/guitar, and Josh Biondillo, on lead guitar/keyboard/vocals, are wearing colourful shirts that fit well with the band's summery music and match my sunny mood (what lovely weather in Manchester of late). Talented bassist Nick Gardner, the only non-singing member, and Scarlett Stevens, on drums/vocals, complete the line-up. Without wishing to harp on about the youthfulness of this band, my 25-year-old mate is exaggerating somewhat but comments that Davieson looks young enough to be his son.
Opening with the up-tempo and rather lovely 'Golden Revolver', with its chiming, arpeggio guitars, Stevens hits her drums urgently whilst still managing to look something like Brigitte Bardot at the back of the stage. Third song of the set 'Lyall' begins with falsetto la-la-la vocals from Biondillo, and it's not long to wait before we hear 'Beach', which features a chorus sung by Stevens. And what a chorus it is. Somehow it stirs all sorts of memories in me of girls I've known and childhood holidays. I don't know how that happens. After each verse sung by Davieson, the Stevens chorus kicks in and my reveries continue, it's an extraordinary thing. After a couple of gulps of my drink I'm feeling less woozy and able to concentrate on 'Reckless', a bittersweet ballad about "being reckless with someone's heart". Davieson's vocal tone rather reminds me of that of Arctic Monkeys' Alex Turner, although his Australian accent is only apparent during spoken interaction with the crowd in between songs. Closing with the catchy-as-hell 'Awkward', with its by now familiar San Cisco theme of boy/girlfriend troubles, what a pleasure it is to hear call-and-response vocals performed so well.
I want this past week's sunny weather to last for the rest of the year. That probably won't happen, but at least I know that in San Cisco's recent self-titled LP I need look no further to find the soundtrack to my summer.