Boe Weaver is the physical manifestation of one of Stuart Maconie's wet dreams. It's as if they make sounds specifically for the Freak Zone (and let me take this opportunity to say save BBC 6 Music). This stuff is so far left of leftfield; it's off the field, outside the stadium, and taking tea in the monkey house with the neighbouring baboons. Fittingly The Weaver wear furry, prosthetic animal heads when they play live – quel surprise!
The first thing you notice is that this could quite easily be the soundtrack to some teen  slasher film from the late 60s or early 70s, and the titles, "Ghouls", "Mysterious Island", "Monster Maker" could be the names for rides in some haunted house theme park.
The sounds, aided by that ever trusty spookifier, the Theremin (and less obviously a host of dwarf choruses), are intermittently racy, horrifying, exciting, and always threatening. Take "Let  It Die" for example. The crash of drums could set the scene for some swinging 60s dance party, but something goes awry, and by the end you're left wondering who was killed and why their blood is splashed over the carpet and up the walls.
The best thing about the album is that it's so riotously entertaining. Every moment marks a scene from a film that only exists in your mind. Boe Weaver writes the music, and your mind does the rest. So, sit back, put this album on, and be mauled by Nazi zombies, chased by  axe-wielding serial killers, haunted by ghosts, party 60s style, defeat all these foes with a trusty old-fashioned lawn-mower, and ride off into the sunset with the man/woman of your dreams. I have twice today already. Thank you BW!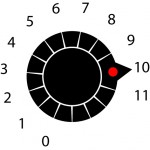 Release Date 22/03/2010 (VU Records)