Upon hearing Machine Gun my initial reaction was one of mirth. I looked at my friend, he looked at me, and we both laughed. A few listens later and I'm less certain. Is this ridiculously good or just ridiculous?
The dirty drum and bass intro I like, but the drop into a sort of electro-metal riff is amusing and lame.
I end up liking this track partly for its originality, but mainly because it's both so shit that it's good, and genuinely good simultaneously.
Confused? I certainly am. Give it a listen and tell me what you think.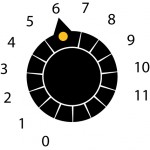 Release Date 08/03/2010 (Vision)