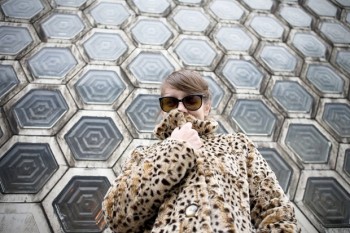 – THE RUBY LOUNGE, MANCHESTER –
Caitlin Rose first began to grab our attention a few years back when she arrived on the scene with her debut album Own Side Now, which heralded her gorgeous 'country-velvet honeyed' vocals backed by an intelligent country-soul sound.  Now on her follow up The Stand-In completed with ramped up production values, Caitlin has gone 'big screen', where her debut album hinted at future glories the follow up has delivered in 'widescreen Technicolor' packed as it is with a veritable orchestra of players contributing cello, violin, saxophone, trumpet and mandolin.
A sold-out Ruby Lounge venue tonight has been taken over by the contemporary country sounds of Caitlin plus able fellow countrymen support which comes in the guise of members of her own support band in their own respective acts.  Andrew Combs is first to hit the stage and initially he seems to roll out the usual hackneyed country clichés of whisky, lost women and the resultant blues which ensue.  However, as members of the support band Steelism gradually join him on stage he wins me and the audience over with his gruff 'Ryan Bingham' style vocals and easy Nashville drawl , and with songs as good as 'Worried Man' he is a man to watch indeed.
Steelism follow with their country funk' lap steel led instrumentals, very enjoyable in themselves but throughout their songs I miss a lead singer to really take their songs to another level.  I do however, really enjoy the spirited run through of John Barry's 'James Bond Theme' and the vocoder led version of The Beatles 'Something '.
It now on to Caitlin Rose, who takes no time whatsoever to get the packed and sweaty crowd eating out of her hands.  She begins the evening focusing on 'The Stand In' songs and her expertly chosen backing band really flesh out 'I Was Cruel' and 'Only A Clown' all made to look effortlessly easy as all good musicians do.
What is a treat is Caitlin's banter with the audience and to introduce the song 'Old Numbers', she engages the audience with a witty impression of a dumb ex-boyfriend waking her up and saying that he misses her because 'she was fun', with the salutary lesson to delete your old unwanted mobile numbers.
Caitlin unusually also thanks the audience for their combined sweat as this is helping to ease her throat , although there is no sign of difficulty throughout the evening with it in fact seeming to get stronger as the night goes on.  Her solo version of 'Sinful Wishing Well' is an absolute joy with the crowd as one in their appreciation.  It's refreshing to see that there are no egos on show as well with Caitlin inviting Andrew Combs to sing a duet of one of his songs 'Too Stoned To Cry' for her encore and it's a real beauty of which Townes Van Zandt would be proud.
Finishing the evening with 'Shangai Cigarettes', this was a special night with special musicians on show.  As Caitlin states when describing her decision to bring her Nashville backing bands, "I did a good thing – yes?" and I think that everyone who attended would certainly agree!