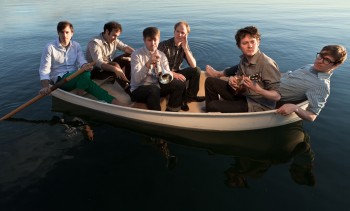 Beirut are confirmed to play 2012's Field Day Festival, at London's Victoria Park on 2nd June and have released a brand new video for the track 'Vagabond'.
Taken from the acclaimed album, The Riptide, the video was again directed by Sunset Television
"We were really excited when Beirut asked us to direct another video, and knew we wanted to make something completely different from "Santa Fe."  "Vagabond" tells the story of a group of soldiers and sailors flirting with nurses and hard-living local girls at a dance.  It was shot at the beautiful Warsaw dancehall in Greenpoint and inspired by the look of Milos Forman movies from the 60's.  There were a couple of live chickens on set who were surprisingly easy to work with and natural onscreen. They also tended to shit the moment the camera was on them. With all the smoking, drinking, and advanced pregnancy, the video will probably be banned from MTV, so we hope lots of people enjoy it on the Internet."
Beirut leader Zach Condon's music is often synonymous with the exotic mysteries of world travel. Since Beirut's last album, 2007's The Flying Club Cup, sang a love letter to France (with a 2009 stop-off in Mexico for the March of the Zapotec EP) many have asked where his songs would voyage next. Lots of guesses, but few predicted the inward journey Condon has achieved on The Rip Tide, an album with the most introspective and memorable songs of his young career.
Recorded in Upstate New York, Brooklyn and, of course, Condon's hometowns of Albuquerque and Santa Fe, The Rip Tide marks a distinct leaping off point for Beirut. Musically, songs have a harmonic immediacy that contrasts the complexities of Zapotec's Mexican full orchestra compositions. These songs started as small melodies, conceived on piano or ukulele, then built upon by the entire band's contributions in the studio, before undergoing a paring down and retrofitting by Condon. What results is a record that sounds like it could have been recorded in one session, with exciting rhythms matching the upbeat horns and contrasting the mournful strings. In terms of style, no direct geographical affiliation to be exhumed. Rather, what emerges is a style that belongs uniquely and distinctly to Beirut, one that has actually been there all along.
Lyrically, Condon exposes a depth of honesty that outstrips the simplified nomadic troubadour image of his past. The songs speak of love, friendship, isolation and community, touching on universal human themes that are less fabricated stories than impressions of life at a quarter century of age. Songs are no longer about imagining places you haven't been; they're about places of which we are all extremely familiar, some of them too familiar.