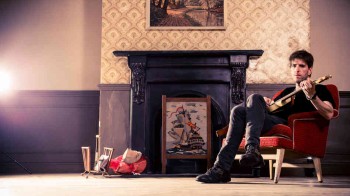 – THE DEAF INSTITUTE, MANCHESTER –
Phew! It's warm in The Deaf Institute again tonight. What's the deal with that? I was here last week for a gig and was actually quite pleased when a lad carrying a couple of beers overhead through the crowd accidentally tipped half of one down my back. Never has a frosty one felt so good. It did occur to me that night, though, that the crowd seemed rather sleepy in the heat. But for John Murry, raised in the subtropical U.S. state of Mississippi, 'nice and toasty' may well just be his temperature setting of choice, and I'm thinking that it bodes well for tonight's show.
I reckon quite a few of the guys in the audience here are of a vintage to have been into dudes like Warren Zevon, Tom Waits, Bruce Springsteen, Mark Eitzel and Marc Cohn in the 1970s-90s. On his recent début album The Graceless Age, which was released to almost overwhelming critical acclaim, John Murry's music recalls singer-songwriters such as these in their most raw moments.
With its tasteful wallpaper, stunning assortment of decorative loudspeakers by the bar, and giant mirrorball, The Deaf Institute has some terrific features, but hearing Murry start the set with a new tune that's unfamiliar to me, 'Glass Slipper', what a delight it is to experience in all its glory what I like most of all about this dear venue: the sound. It's gorgeous tonight.
Murry, sat solo on a stool with his acoustic guitar, performs the first three songs beautifully, pausing to offer plenty of charming and good-humoured musings in between. He speaks quietly, shyly and tends to mumble, so I don't catch everything he says, but everything I struggle to hear is either insightful or makes me chuckle. Gazing thoughtfully up at the mirrorball's twinkling lights, he introduces another new song by telling us that the stars are God's bullet holes.
It's also the title of the song, he says, and on this number we are treated, for the first time tonight, to musical accompaniment from Murry's sidekick for this tour, Will Waghorn, who makes his way up the stage steps to play drums. I've nothing against bass guitars, but I've always been pretty into the acoustic guitar-voice-drums combination. There's an airiness in this set-up that allows us to hear the nuances of Murry's accomplished guitar playing and Waghorn's cymbal crashes fading into nothing – and the inhale and exhale of Murry's chest as he sings lends an intimacy to the songs that isn't captured on record.
Bearing in mind that Murry lays it all out there in his songs, and doesn't hold back in his stories of his struggles with love and substance abuse, it's clear to me that this intimacy and connection to the songs is what is making tonight feel so special. Not only this, but I find myself rooting for Murry as he plays The Graceless Age favourites like 'The Ballad of The Pajama Kid' because of his couldn't-care-less attitude. He really doesn't give a shit that he's not cool. He covers the likes of Bruce Springsteen and Crowded House in tonight's set. He's hardly getting down with the kids with these covers. He verbally shrugs his shoulders at the fact that there's another song and a movie out there with the same title as his 'Things We Lost in the Fire'. His house got burnt down so he can call the song whatever the hell he likes, he jokes. Maybe paradoxically this stuff is what makes him cool.
The final song of the main set is 'Little Colored Balloons'. Arguably the gut-wrenching centrepiece of his LP, tonight we hear Waghorn skilfully combine the playing of a tuba with percussion to back up Murry's highly emotive vocals and guitar. Murry growls the start of each chorus, the guttural force of his voice taking the audience along for the ride that ends in an ambulance. As Murry sings "I still miss you so much, I still miss you so god-damn much," a bloke caught in the moment towards the back of the floor shouts the words back at the top of his lungs.
At the song's awesome end, Murry slumps into his seat in exhaustion for the briefest of moments before rising triumphantly to acknowledge the huge appreciation shown by the crowd and to playfully pat Waghorn on the belly. I decide there and then that, as much as I love seeing noise bands tearing up a tiny stage or having a dance to some cheesy pop, there really is nothing like a night like this, where familiar songs that are full of drama and passion and longing and intelligence are given even greater clarity and resonance.