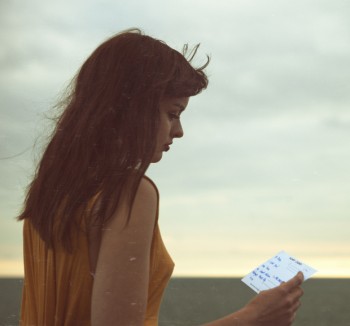 Life in the sticks can be seriously strange. From Myxomatosis-stricken rabbits to agoraphobic house parties, Postcards From Jeff offers a brutally honest perspective of looking out from windswept valleys to neighbouring city lights – it's channelled through the peculiar new Lynchian video for 'A House'; the first track to be revealed from the melodic explorer's forthcoming debut EP.
Recorded in the heart of rural Yorkshire between producer duties for other artists, Postcards From Jeff plays, records, and mixes his songs himself. His identity is that of a skilled musical manipulator engineering cinematic songscapes from old synths, electronic and organic drum kits, and heavily processed guitars into stunning 'postcards' that blinker on the horizon like Morse code messages to the outside world.
Calling upon the video expertise of Steve Glashier (Primal Scream, The Prodigy, and Fatboy Slim) having first admired his visual interpretation of Lyna Galliara's 'Life's Shit', the pair came together through a mutual appreciation for the strange. "You could call it a shared fascination with suburban dysfunction," tells Postcards From Jeff of the pair's common interest. "It's an ever-present theme in my music."
Inspired by Twin Peaks, The Stepford Wives, the photography of Gregory Crewdson and Scandinavian noir, the result is an impressively slick moving picture that marries unsettling melodrama with Postcards From Jeff's innate capacity for scene-stealing melodies boasting widescreen wonder. "There's a lot of ambiguity in the video," he says. "Is it just a typical house party or is something more sinister happening? Are the people happy or dysfunctional? Are they beautiful or not? That's what I like most. I'm not quite sure what's going on in these people's heads."
Bringing together the old with the new, Brighton's Duke Of York Picturehouse was selected for giving the video its voyeuristic perspective placing Postcards From Jeff himself as an observer of larger-than-life characters engaging in morally dubious activities. Altogether it brings a contrasting dimension to the song's low register vocals, offering weight to the light Sparklehorse style Mellotron and New Order style hooks that propel the song from home-on-a-hill to million dollar grand design.
The first Postcards From Jeff recording to be unveiled, 'A House' will appear alongside four further tracks on the self-titled EP which is to be released ahead of a full album that's already in the works for 2014. A continuation of this accomplished new producer-artist's atmospheric lo-fi textures, 'Awake' exudes sincerity, 'Weekends' brings minimalist beats, 'Veronica' provides the Fleetwood Mac 'Tango In The Night' pop moment and 'Agoraphobic House Party's oriental tones allow a restless stream of consciousness to wander at will."Ninety percent of the songs came from me experimenting with ideas early in the morning whilst I was half awake," he explains. "I think that dream-like state contributes a lot to the general mood."
'Postcards From Jeff' EP released 03/03/2014 on Alien Boutique / EP launch – Saturday 8th March 2014 – Soup Kitchen
Postcards From Jeff Official | Facebook | Twitter | Soundcloud | Youtube