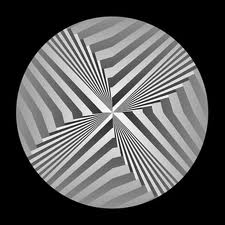 The aptly named Funkystepz gives us two slices of unforgiving UK Funky, and more goodness from Hyperdub.
Funkystepz is a collective of five North Londoners creatively named Stimpy, Renay, Scrufizzer, Twitch and DJ, and with a strong following on their Rinse FM show and a string of self released tracks, this forty-ninth Hyperdub offering sees their first commercial release.
Just from the first few seconds of the introduction, I could feel 'Fuller' was going to get my feet shuffling in that four by four way I've come to love. Commanding all heads to nod from side to side, it's straight up UK Funky, no messing about. Big bass bounces in between the drums with horns cutting through and the nitrous fuelled lead kicking the energy levels to 11. Warming! Expect bodies to bounce when played.
Hurricane Riddim opens on soft keys before switching into hard, pulling no punches, drum work. The filthier of the two, the beat goes all out. Splicing Grime, Techno, Dubstep & House with a bass made to split heads.
Unfortunately, the Funkystepz boys thought it necessary to name check themselves a few times in each track. Just in case you forget who made the track you just bought, listened to or searched for. I've no idea why Producers think this is a good idea; nevertheless these are still two decent slices of sound.
I am loving the progression UK Funky made since its birth, and the new and exciting forms being offered up. This release sees a return to true form with all the perfect elements in play. Two tracks packed and sealed for the dance floor.
Release Date 21/02/2011 (Hyperdub)