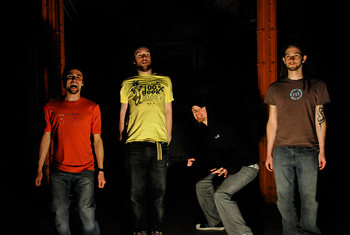 Cyril Snear don't raise their heads above the parapet often. The Manchester-based four-piece have watched on as fads and fashions swept through the city since its musical renaissance towards the end of the last decade; but they themselves? They're a band that emerge from its cultural catacombs only when they feel they've a definitive statement to make. Riot Of Colour is their second album, and first since 2009's formative debut Fluent In Seven Types Of Monotone. It's a record that, within its beguiling matrix of shape shifting electronics, warped instrumental structures and metal-leaning bite, chimes with the 'no future' fear of western society's twenty-somethings, with lyrics searching for optimism amongst the social and political betrayals, and subsequent disillusionment in 21st century Britain.
The band's chrysalis emerged from the friendship of North Wales-born vocalist Mike McKnight and guitarist Dan Leese, though their emergence in Manchester wasn't until shortly before Fluent In Seven Types Of Monotone. A record they now view as somewhat of a demo, the ideas they took from that nevertheless stood them in good stead as they embarked on supports  with – and received subsequent championing from – some of their adopted home's other alternative rock curios, Oceansize, Kong and Amplifier (Oceansize's Richard 'Gambler' Ingram appears on keyboards on four of Riot Of Colour's tracks and arranged all of its string arrangements), the group's line-up revolving through that period until settling on its current set-up, which includes drummer Nick Roe and bassist Darryl Clarkson.
Riot Of Colour – self-produced at Blueprint Studios in Manchester –  comes from four years learning, refining and sonically expanding in order to create something that veers between aggressive confrontation ('Annexe 1'), to reflection on mortality ('Focus') and the search for shared intimacy in a world of isolation ('The Weight'). Explaining the group's creative process, vocalist and guitarist McKnight explains "the songs often just start out from these half-ideas me or Dan'll have stuck on our computer; they start out digitally done but we're lucky in Nick to have an amazing drummer who'll give a track this tightly syncopated feel. Nick Drake is a huge influence on me and, like him, I have a tendency to muck around with guitar tunings. So the whole thing becomes like finding the alchemy that fits it all together."
That sense of different elemental blocks being twisted and shaped together is certainly evident in Cyril Snear's music, but there's a great deal of freedom within it too, with tightly-packed guitar segments giving way to more ambient passages that seek to explore the silence as much as the sound. Battling against that are McKnight's lyrics that jumble in a stream-of-consciousness. At times the lyricist layers up two or three themes within a single verse, intending the effect to represent the sensory overload that we have as humanity, and trying to cut through it to protest about issues that are doing us down. They're heavily coded, but flit between sardonic humour to full-blooded insistences that feel as though they're raging against the dying of the light. "I feel like I'm asking questions of mankind" he explains, "there's a lot naivety in them, but there's a desire to know more – and an anger too, an anger that no one seems to care that we're breaking down."
Coupling that with songs that recall everything from Deftones and Tool to veteran electronic labels like Warp and Ninja Tune, there's plenty to suggest a sensory overload in their own music. Yet there's a well-held cohesion through Riot Of Colour, portraying a band confident enough in their ability to get their message through their dexterities. It's worth taking your time getting to know Cyril Snear, you don't know when they'll be back again.