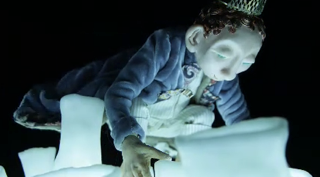 North London's finest, Bombay Bicycle Club, have this morning unveiled a beautiful animated video to their new single 'How Can You Swallow So Much Sleep', which is released on the 2nd April via Island Records.
Created by animator Anna Ginsburg, it has taken six months to build & film and is made even more personal by the fact that Anna also went to school with the band.
If you'd like more information you can also read Anna's blog, whereby she discusses all aspect of making the video.
BBC have now sold out of more than 10,000 tickets to their local homecoming gig at Alexandra Palace on Saturday April 28th. In recent years the legendary venue has become famous for hosting notable shows by the likes of Jay-Z, Arcade Fire and Arctic Monkeys while their date follows on the heels of shows there by The Black Keys and Florence & The Machine.
And this week Bombay Bicycle Club have been nominated for three NME Awards – for Best British Band, Best Album Artwork and Best Track in Shuffle – a remarkable achievement on the back of having performed to more than 150,000 people via their main stage festival appearances and headline shows. They have also quietly sold more than 350,000 albums in a whirlwind two years since their debut was released in 2009 – achievements include two Top 10 albums, an Ivor Novello nomination, a No.1 on Spotify ahead of Beyonce and Adele, as well as the band winning Best New Band at The NME Awards in 2010 – all this through the steady support of a loyal fan base built-up over the last three years and via word-of-mouth rather than press hype and radio support.
They release new single 'How Can You Swallow So Much Sleep' on April 2nd through Island Records which is expected to further swell the band's 175,000 single sales to date. It is the fourth track to be taken from their third studio album, 'A Different Kind Of Fix', which has also just been certified Gold with sales of more than 100,000 copies. The album was co-produced between Hamburg with Jim Abbiss (Arctic Monkeys, Adele) – who worked on their debut – and Atlanta with Ben H. Allen, the former P. Diddy mixer who has worked with Gnarls Barkley and Animal Collective.
The quartet are also about to embark on their first ever North American headline tour which is selling so well that several venues – some up to a capacity of 1,200 people – are being upgraded to accommodate demand. In March they tour Australia with Elbow and they have just returned from shows in the Far East to rave reviews, which follow on the heels of those for the album.