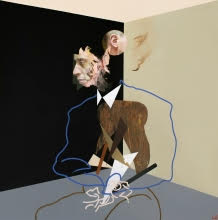 2019 could not be off to a better start than with the release of one the most anticipated Australian albums of the year, Methyl Ethel's 'Triage'. Fresh off the success of 2017's 'Everything is Forgotten' which reached #16 on the Australian charts and #28 on NME's Albums of the Year awards, big things are expected from the surrealist project of Jake Webb.
The album begins with 'Ruiner', where Jake gets straight to the point: "I am just a child, can I cry?" The Melbourne based musician has mentioned beforehand that he was after closure with this album. The last of three records which have all dealt with his decision to withdraw from close friendships, you're left with the feeling that he really needs this output and audience to help air out his frustrations.
'Scream Whole' is an absolute banger and has you hooked straight away, thanks to its awkwardly creepy piano melody and engaging bass line. Alongside single 'Real Tight' it's the undoubted star of the album with both tracks sure to please the masses, and thoroughly deserve to take their place alongside 'Ubu' as showpieces of the bands ability to craft infectious grooves.
It's here however where the album starts playing tricks on your mind. 'Post Blue' comes across as being too whimsical and experimental, even by Methyl Ethel standards, and throw in 'Trip the Mains' and I'm left feeling slightly frustrated. The album has all the ingredients to be huge, the hooks are there, and the songs are detailed and deep enough to warrant further discovery, but you can't help fight the feeling that a trick has been missed. It may just be a case that it's the kind of record that needs to be loved and played a few more times in order to fully understand the sound that Jake is trying to get across. It's not necessarily a negative and the album on a whole is great, however because of Methyl Ethel's outstanding back catalogue and undoubted talent, the bar has been set at such a height that it may be hard for the band to continually reach those expectations.
By openly admitting he was seeking closure from that period of his life, you can't help but feel the actual recording on 'Triage' is the only thing holding the band back. The low-key element matched the moods of the previous albums however there is a lack of oomph here that some of the songs deserve. One positive aspect is the magical mixing of Marta Salogni, who has worked with The xx, Goldfrapp and FKA Twigs among others. Jake stated after production had been finished that "it was probably the best collaborative experience I'd ever had" and if he was able to learn and develop alongside Marta throughout the process, you can't help but be excited about future projects.
Methyl Ethel: Triage – Out 15th February 2019 (4AD)