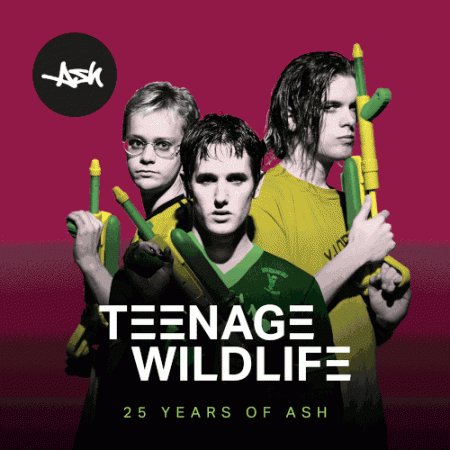 'Kung Fu, do what you do to me. I haven't been the same since my teenage lobotomy.' It's been twenty five years now since Ash released their first full album '1977'. The band have had some up's and downs throughout their career so far. Although considering the three Northern Irish punks practically walked out of high school at age sixteen and into a world of Britpop, they have not done bad for themselves at all.
This is apparently not a greatest hits album, as this would be, they're second after 'Intergalactic Sonic 7's' a greatest hits record released in the early 00's. Yet a celebration of the twenty five years they have had in the music industry. In fairness they have being a very busy band since the release of their first greatest hits album.
In 2009 the band took on an almost impossible task of releasing a single every two weeks for twenty six weeks. The A-Z singles was a mostly successful endeavour leading them on a tour that stopped off at a town in Alphabetical order, starting at Aldershot West End Centre and finishing the tour at Zennor Village Hall. It was then when I actually first saw Ash live in small underground venue in Rotherham.
With this being a 3 disc/54 track release, I'm not going to be able to go through each track individually. The album kicks off with the bands classic track 'A life Less Ordinary', a classic Ash track laced with lyrics about teenage love and getting stoned, along with the sound of Tim Wheelers spaced out guitar solos.  The first two disc's cover all the bands main hits the remastered versions of 'Girl from Mars' and 'Kung Fu' still pack the punch of the originals and making the sound Tim Wheeler's Gibson flying V even more iconic.
Before the release of the A-Z singles series, Ash announced that they would never release another conventional album they went back on their word in 2015 and released the rather unexciting 'Kablammo!' although the slightly annoying single from the album 'Cocoon' made it onto the record.
In 2018 the band released 'Islands' which by all accords was a great album tracks such as 'Confessional in the Pool' and 'Buzzkill' had that mid 90's Ash sound to them which a lot of their work on the past two albums had not. These are two tracks that without doubt have earn the right onto this album.
The second disc opens with arguably Ash's most iconic song 'Burn Baby Burn' backed by an infectious guitar riff and heavy bass line from Mark Hamilton, it's understandable why this has been the closing track at the countless Ash gigs I have attended over the past decade. Tracks from the A-Z series are on here to 'True Love 1980' and 'Return of the White Rabbit' both show a more experimental side to Ash. The 90's classic 'Oh Yeah' from 1997 is on here but I can't help but feel disappointed that the track 'I'd give you anything' didn't make the album, over some of the other less interesting of the fifty four tracks.
The third and final disc of the album consists of rarities', B-sides and covers. The cover of The Undertones 'Teenage Kicks' is welcomed. The track 'Heroin Vodka White Noise' is suburb and brings out a darker more 90's early Emo sound, with a creeping bassline and haunting lyrics. The B-side to the single 'Oh Yeah' – 'T Rex' is all out teenage punk blast that really defines the energy of this band at that time.
A quarter of a century is a long time for a band to stick together without a single break up but you've got to take in mind that these guys have all only just turned 40 years old. Having started so young will Ash keep going or slow the pace down? I hope we will get to celebrate fifty years of Ash.
Ash: Teenage Wildlife – Out 14th February 2020 (BMG Records)
Ash hit the road in March in support of the release and hit Manchester's Ritz on the 21/03/20.