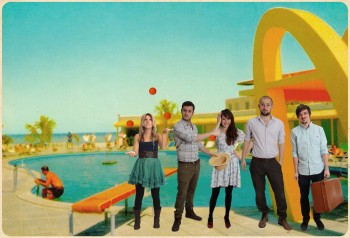 – DEAF INSTITUTE, MANCHESTER – 
Coming out onto stage to open with 'For, Words' tonights headliners Keston Cobblers' Club have attracted a crowd with a good mix of ages, though since this is the Deaf Institute the lower limit is of course 18. The opening song gets the performance off to a good start and before breaking into 'We Will Heel Your Soles' as one of the Cobblers, Julia Lowe, invites us all to have a Monday dance, after first establishing it is definitely a Monday.
The band released their debut album One, For Words a little over a year ago and have gone from strength-to-strength since. My first experience of the live show was at Glastonbury festival last summer and their performance seems to have jumped a few notches even in that short time. There is something very likeable about the style and using a tuba as the main source of bass works better than I could ever have imagined.
Not content with simply playing their songs well, the talking between songs is also very endearing. "Clapping is my party trick" claims Lowe while introducing 'You-Go' as she says "It's a real-life working clock, like Big Ben but less accurate" leading us into 'Parade'. The band all clearly enjoy being on stage and their claim that they are "Going to get dark now" before playing a new song might be more believable if they don't then spend the first minute of the song grinning at each other.
To close out the first part of their show the band play through a number of songs that they have made videos for. 'Your Mother' is accompanied by an apparently "secret dance" that features in it's video. 'Pett Level' encourages us all to jump right in and the last song before leaving the stage 'Beam' is played to mass audience participation shouting "A-MEH-RI-CA!".
The band is not gone for long before they return with a drum and some friends from support band Patch & The Giant to set up in the middle of the crowd. An acapella version of Vampire Weekend's 'Ya, hey!' is accompanied by some beating of that drum. They return to the stage to end the show with 'Giraffe Junkie' and 'Dun Dun Dun' to an appreciative crowd.
A special mention should also go out to the first act of the evening Tales Of Two Counties. Their set opened with song 'I'm Not Your Man' featuring the first of many mandolin solos. The infectious foot stomping of 'Paycheck' and their charismatic leader Graham Thompson set the mood for what was to come in the rest of the evening very well.