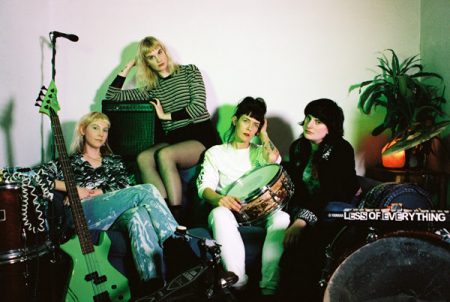 London synth punk four-piece Es have announced their debut album Less of Everything, set for release on 3rd April via Upset The Rhythm. The band have also shared caustic first single 'Chemical'.
"The song was written during a period of emotional and physical fatigue when everything felt overwhelming," explained vocalist Maria Cecilia Tedemalm. "The lyrics directly reflect the downfall of living within a capitalist societal structure which pushes people to their very limit, where striving for being constantly productive and overachieving can take over your life completely."
The video, filmed by Lindsay Alexander Corstorphine and directed/edited by Tedemalm, was, "shot on a very cold day in my garden in Clapton much to my neighbours dismay. The idea was to make something simple but slightly chaotic to accommodate the message of the song – a sense of urgency and commotion within a simplistic framework."
The title of Es' first full length LP could be interpreted as a manifesto pledge, an outright demand or a purely literal sonic descriptor of the London quartet's glacial form of punk rock music. This tension between intent and interpretation has been a fundamental element of the group's output from their formation.
Es is Maria Cecilia Tedemalm (vocals), Katy Cotterell (bass), Tamsin M. Leach (drums) and Flora Watters (keyboards). Their 2016 debut EP, 'Object Relations', released on influential London punk label La Vida Es Un Mus, was described as "mutant synth-punk for our dystopian present" (Jess Skolnik, Bandcamp, Pitchfork). The band has since become a vital presence in London's underground DIY music scene, as well as having toured the UK with the Thurston Moore Group in 2017.
After a period with members split between Glasgow and London, Es recorded Less of Everything with Lindsay Corstorphine (Sauna Youth, Primitive Parts) in Tottenham in 2019. As in 'Object Relations', the dynamic between Cotterell's bass and Watters' keyboard is at the heart of Less of Everything's sound: intertwining sub-zero melodies, gothic anarcho-punk influences (think KUKL, MALARIA, X-MAL DEUTSCHLAND) and some kind of entirely unlocatable aquatic component. When combined with Leach's precise drumming, the outcome is original and immediately recognisable. Es are a group who know how to leave space, how to strive for minimalism without sacrificing aggression or dynamism.
This dynamic provides the perfect backdrop for Tedemalm's relentless, pointed vocal style. While comparable 'cold' sounding groups might affect an impersonal, safer mode of lyrical or vocal detachment, Tedemalm's strategy is to "push the lyrics as far as I can thematically until they become absurd … overly dramatic … while still being sincere in the feeling they're trying to invoke. I try to apply as much emotion as I can." The result is something intense but nuanced, confrontational but complex.
Less of Everything will be released on April 3rd 2020 on Upset The Rhythm.
Es Facebook | Twitter | Bandcamp