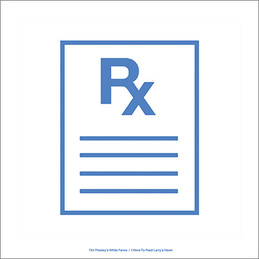 The Lake District has inspired many artists over the years, the most surprising recent convert being Californian garage rocker Tim Presley. After relocating from LA to San Francisco, he then upped sticks again and ended up in Stavelely, in the Lakes, in the depths of winter, with fellow songwriter Cate Le Bon. While she was studying furniture design, Presley set to work writing the tunes which would form this latest release. Whether he actually had to feed a hawk during this time, no one knows for sure, but being surrounded by the serenity of the British countryside seems to have had a profound effect on his song writing. For his latest release, he's kept it stripped down to straight forward rock n' roll laced with folk undertones, which channels the spirit of Velvet Underground and Johnny Thunders mixed with Syd Barrett all on one album.
Kicking off with the title track, it's an eerie dystopian mind melding pot of electronic bleeps and Presley's gentle vocals wafting above, the kind of tune you could imagine being played at some sort of psychedelic folk gathering in the 60s, it's as trippy as an uneven pavement in winter. 'Fog City' has folk vocal harmonies over church style organ sounds and subtle guitars, reminiscent of early Pink Floyd whereas tracks like 'I Love You' and 'Lorelei' both have subtle guitars and is are more melodic affairs. 'Harm Reduction (Morning) has surreal country-esque soundscapes mixed with subtle beats, which leads nicely on to 'Harm Reduction (Street & Inside Mind)' again with more robotic bleeps and noises.
Tim Presley was once a member of The Fall, playing on the 2006 album 'Reformation Post TLC', and is one of those musicians whose collaborative efforts often receive more recognition than their own solo efforts – he's collaborated with Ty Segall a few times amongst others, and it's probably about time his own solo work as White Fence got more of a look in. He's one of those artists who is so prolific, that either under his White Fence guise, or in collaboration with others, he's bound to have a few more releases in the pipeline. So, If you're not into his stuff already, it's never too late to start exploring this Californian's work, and ninth album 'I Have To Feed Larry's Hawk' is a great place to begin – a understated folk induced gem of an album.
I Have To Feed Larry's Hawk – Out Now (Drag City Records)