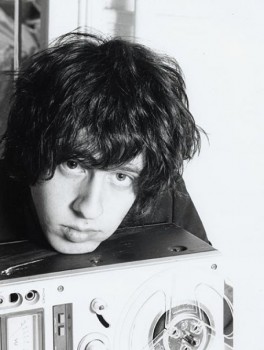 – CLUB ACADEMY, MANCHESTER –
I am so excited about seeing Adam Green this evening that I turn up to the gig an hour early to grab a beverage and soak up the atmosphere before heading down to the basement.
The above, could very well have been the entirety of my review of three acts, I would have had to miss out the stage dives, the man on man smooching, the stage invasion or the out and out sex appeal of the Sound Of Guns. I wouldn't have wanted to, but I would have had to, because if it wasn't for me being a former student of Manchester University the bouncer who was a real bully would not have let me in.
When I was a student we would always have issues with some of the bouncers who did everything in their power to ensure we spent our night outside with the tout. Naively I had assumed as an adult I would no longer have to tolerate stand offs in the rain, that perhaps they were rude in the past because they were sick of watching students pass by with little care than the occasional essay or deciding which flavour, read colour of After Shock to buy. Unfortunately I was wrong; the meaner bouncers would appear to hate everyone equally.
After attempting to reason with one grey bearded bully, I pulled out my old student card and scuttled in, though not before being called a stupid cow. My companion later heard the same man telling his fellows how he hated students and wanted to blow the place up. I may be an emotionally fragile flower at times but today I was more angry than upset and ended up telling the bar-maid he had been mean to me.
One of the reasons I was so excited about the gig was I had heard great things about the redesign of the basement. It got fixed up years ago but the last time I saw it was through the Malibu tainted mind of a 21-year-old student dressed in beach wear at the end of year Pangaea party. When I finally get inside I am impressed at how great the venue looks, there are enough seating areas for people who want to sit back and relax; some side rails where you can stand back but still feel part of the music, and a great pit in the middle with a stage just close enough to give a very intimate feel to the night, and thanks to Adam Green it is an intimacy which will prove to be more than most can handle.
Both support acts have been well chosen, The Voluntary Butler Scheme starts off the night and although I missed much of his set due to more trouble with my companion getting in, I saw enough to want more and brought his album the next day based on his clever funny little lyrics. A one man band, he also had an admirable ability to combine vocals, keys, synth and percussion beautifully together to make a really interesting sound by commanding each instrument with ease.
Sound Of Guns comes on in a way reminiscent of 2001: A Space Odyssey, except its 2010 and thanks to the light show and the thundering beat of their solid drummer the effect of their opening is undoubtedly cooler. They have a great consistency in their look and a front man who really works the stage well and moves well between the musicians in a way which prevents them slipping into a solitude seeming act as from time to time they do look as though they are playing alone. They look like they are having a pretty good night themselves with lots of hair shaking and stage shuddering rock outs but I do wish they would smile a bit more.
They are good looking lads and if it wasn't for the fact I was scared of being crushed I could happily join the over-excited mush of girls and guys at the front. Although the lyrics are at times a little muffled and lacking in originality, you can forgive it because they put their all into the show and in spite of being too cool to show a cheeky smile once in a while, they do look as though they are enjoying it. It is this enjoyment that means the crowd get swept up into the act too, and even the most cynical cardigan clad comers towards the back can't help but move a little to what is a truly brilliant rock and roll beat.
As the guitarist from Adam Green's band told me after the show the really great thing about Adam is that he has a skill for reading any audience and then tailoring the show to meet their needs. Indeed there is nothing formulaic about Green's performance at The Academy which at one point sees me drop my pencil in my eagerness to get everything down. He may have a bit of a tummy and he may be sweating like a skier in Vegas, but Green radiates an aura of utter sex-appeal which has an effect even on the straight men of the audience.
He banters with the crowd, he leaves the bouncers frustrated (at which I am delighted) as he continually dives into the crowd, pulls people from the audience and at the end encourages a full on stage invasion before grabbing a girl after the last song and walking off the stage with her legs wrapped round his waist. I would like to think this was just a gimmick but I later see him talking to the same girl and a friend after the gig and both look as though they would happily lock their mate in the toilets just to get Green on his own.
Although the sound can get a bit heavy at times, whether you are a fan of light rock or not you cannot help but giggle at his lyrics which are sang in a voice laced with irony supported by a really very great band. One of my favourite lines is from the song Emily which goes, "Emily sweet baby wont you be my wife, Cutting me wide open with a kitchen knife."
Green puts on a show which is impossible to stand back from, though some of the snootier types still do, and even if he is at times a bit of a diva (he kept us waiting at the start just longer than is polite) he puts on such a good show you probably wouldn't be too fussed if he stripped naked and ran across the stage with a pineapple on his head. He is a great lyricist and performer. He pulls a boy from the audience and gives him a good snogging. When I later ask the lad later if he has a girlfriend, he replied: "Yeah, I'm straight, but if Adam Green wants to snog you, you don't say no do you?"
Green is enough in control of his ego to let his drummer take the lead for a time, and as Green plays drums he dives from the front into the audience wearing a caveman waistcoat which could well have come from Pangaea the last time I was here.