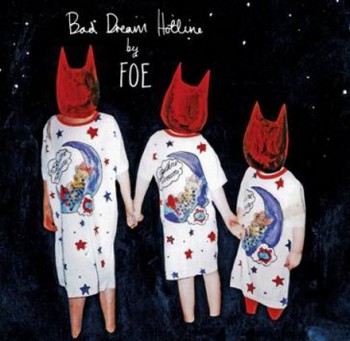 Art school dropout, pensive introvert, grunge obsessive, fan of dressing up in brightly coloured wigs: as FOE, 21-year-old, Hannah Clark is all of these things and more. FOE's debut album, a fun house of funeral glamour, 'Bad Dream Hotline', was released 16th January on Vertigo records.
Turned on to Captain Beefheart, Nirvana and PJ Harvey by her music-loving dad when she was a teenager, FOE's making riff-driven, 90s-inspired, cerebral pop-rock shot through with dark, caustic, dream-like lyrics. For a shy girl from Hampshire who admits that she's "not much of a people person" and that she's happiest writing music on her own in her bedroom, its boldness is instant.
After being forced to move away from her hometown at 14, Clark decided to vent all her teenage angst in music. Diving head first into the local music scene, she formed and dismantled a string of local bands, but soon decided she wanted to write alone. It wasn't until she found a second-hand organ in a charity shop for £40, and started laying that over the skeletons of songs that the sound of FOE and subsequently, 'Bad Dream Hotline' came to fruition.
'Bad Dream Hotline', produced by Entrepreneurs, mixed by Dan Grech (The Vaccines, Howling Bells) and Mike Crossey (Arctic Monkeys, Foals) is an infusion of Clark's twisted fairy tales that mirror her real life experiences, nightmares and subsequent vulnerability. Kicking off with the wry 'Ballad For The Brainkeepers', Clark sings what could be a warning to a version of herself that she can never be: "Get to the top, yeah claw your way up, just don't fall off…"  and setting the albums tone as an outsider.
'Tyrant Song' (one of the first songs she finished for the record), features heavy-duty vocals twisted around distorted guitar and manic Wurlitzer organ, all enveloping a retrospective of FOE's less than ideal school experiences: "memories are sour like lemons in your eyeballs." Other songs on the album, like 'A Handsome Stranger Called Death', address the morbid fear of death that's haunted her since she was a child. 'Black Lodge' is named after the fictional setting featured in Lynch's infamous TV series Twin Peaks, and demonstrates her unique take on story telling that clashes childlike innocence with the impending sense of the unknown.
Staying true to her 90's DIY routes, Clark has produced limited edition fanzines, featuring characters from the album; The Deep Water Heartbreaker and Handsome Stranger are brought to life on the pages of her zines.
A wonderfully twisted prospect live, FOE has been busy pulverising headline UK tours and support slots for the likes of Atari Teenage Riot, Ghostpoet, Metronomy, Entrepreneurs and Kap Bambino.
Bad Dream Hotline is unabashedly scuzzy and daring thrash rock-pop – introducing the darker side of 2012.