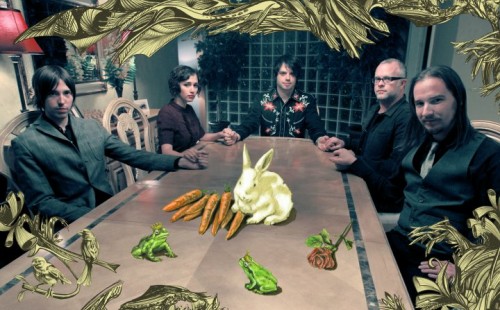 – THE NIGHT & DAY CAFE, MANCHESTER –
An amusing game to play before any gig at the city's smaller venues is to try to guess which individuals in the crowd are members of the headlining band. When, for example, post-rock is on offer, this can present hours of fun. With his distinctly un-Mancunian drawl and all-conquering beard, however, My Jerusalem's Jeff Klein blows the challenge clean out of this (admittedly non-Mensa-endorsed) activity.
Drawing My Jerusalem together from friends he has enjoyed playing with across his career, Klein's collective are a diverse bunch. This is, without doubt, reflected in their music. Tonight's show incorporates indie rock, dashes of brass and symphonic pop, making it easy to reach for the kind of 'melting pot' metaphors that no tabloid reviewer could stare down — least of all in the knowledge that the band formed in New Orleans.
Calling the audience to its feet with a promise that it will make (His?) Jerusalem play "ten times better", Klein proceeds to whip up a shindig. In a set featuring songs from their Without Feathers EP and on the day of release of 'Bury It Low', second single from their debut full-length Gone For Good, the colourful Big Easy sextet blend the tender with the straight-ahead foot-stomping. Klein's efforts, together with those of (but not restricted to) Dave Rosser of The Twilight Singers, Matt Bricker and Rick Nelson of The Polyphonic Spree, Ashley Dzerigian of Great Northern and Cully Symington of Bishop Allen conspire to make the listener feel golden, full of life, part of a happening. Launching into 'Sweet Chariot' (the irreverent, must-see music video for which features a pair of 'dancing' bikini girls. See below), Klein strikes a particularly uplifting note, the semi-yelped choruses offset by a sweep of strings that lend poignancy. Further highlights from the hour-long set include the aching, bittersweet 'Love You When You Leave', swelling 'Hit The Lights' and fragile 'Heroin(e)', touching and breaking the heart in equal measure.
Forgoing an encore, though the crowd nevertheless calls for one, Klein's end-of-show invitation for all present to party with the band into the small hours does not, for once in the world of live music, smack of insincerity. With My Jerusalem's tour set to move on to London, it can only be hoped that the genial intimacy of this first-class act's songs does not drift away amid the sprawling hubbub of Capital City.
httpv://www.youtube.com/watch?v=WWrKlU1XrHw&feature=player_embedded