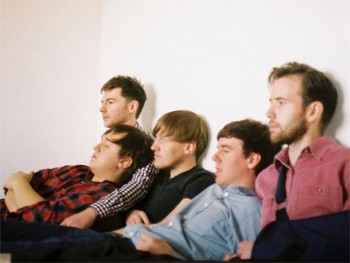 – THE CASTLE HOTEL, MANCHESTER –
So it's fair to say that I'm pretty excited ahead of tonight's events! Not only is today the day that the first albums of the 2013 have been released but I'm also at my first gig of the year at one of my favourite venues in Manchester for an intimate, invite only performance in support of one of said albums. The album is question is 'Out Of Touch In The Wild', the third long player from Salford based outfit Dutch Uncles, a band whose sharp, rhythmic guitar pop melodies have captivated my ears since the release of their excellent debut album back in 2008. On this new record, the quintet have stripped back the guitars in favour of xylophones, strings and keyboards to create an album that still retains all sharp melodies and 80's pop sensibilities that makes their sound so distinctive but expanding in sonics and in sound to make their most theatrical and powerful set to date.
But before we get to that, the band squeeze onto The Castle's modest stage to big cheers from a packed room of fans, family and friends starting with a couple of tracks from their ace second album Candenza, opening with the piano stomp funk of the album's title track, closely followed by the incredibly slick pop tones of 'X-O' which sounds amazing live as the whole band lock into its effortless groove and the whole crowd sway and dance in delight.
I must say I'm pretty intrigued on how the band are going to recreate this new album live with it being all new instruments and new textures but it seems the band have a new toy joining them onstage, an electric xylophone which perfectly recreates the sound of one of the key instrument used on the record. It looks like a difficult instrument to master but guitarist Pete pulls it off with ease as the band launch into recent single 'Fester' in all its edgy yet danceable glory.  New track 'Threads' follows next which see's Pete and front man Duncan take the xylophone at the same time, which given its tricky time signature looks mind bogglingly awesome to watch and leaves the crowd in awe of their talents!
The band treat us to a good chunk of the new album; latest single 'Flexxin' provides a big shiny chorus, 'Bellio' brings back the groove with a super slick bass line and 'Brio' brings the set to an epic conclusion with its hypnotising piano thumping work out.
After hearing nothing but good things about Dutch Uncles being an excellent live band, I'm pleased to say that I have been told nothing but the truth and just like their latest album, tonight has been a triumph! Bring on 2013, hopefully people will sit up and pay attention to this fantastically unique band.