With its crisply crafted songwriting – reminiscent of Leonard Cohen and The Lilac Time – sophisticatedly interspersed with lush orchestration, and lashings of distortion, Excerpts impresses immediately. The resulting (and desired) effect of such interplay is of an album amorphously going in and out of focus. The title, Excerpts, and track 2's name, 'Things I Forgot', set the tone of memory, its distortions, and the difficulties of recalling the past. The overwhelmingly melancholic mindset also suggests that the very act of looking back is a naturally negative act, and that memory is repressive rather than liberating.
An interesting concept certainly, and cleverly executed, but Oliver Alary, the man behind Ensemble and sometime Björk collaborator, fails to entertain. We remember certain things specifically because these past events moved us to joy, misery, disappointment and regret, but Excerpts is an emotionally dead record. Even as it stimulates intellectually, the album's relentlessly maudlin approach and inability to connect with the outside world leaves it drowning in the quicksand of Alary's own self-obsession.
Excerpts is a self-confounding concept album that provides a strong argument for looking to the unset, hopeful future, rather than the dead, calcified past.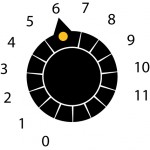 Release Date 17/01/2011 (FatCat)