For some reason that now escapes me I had already decided that I hated Paolo Nutini even before I put 10/10 in the stereo. I was even more cynical about him when my chef friend Ryan, who listens to shit radio-friendly house all day, assured me that "it's mint that".
But what do you know, this stuff is great! And not least because Nutini sounds like a reanimated Bob Marley wailing to some of the boppiest dancehall reggae this side of the early 80s.
Paolo, Ryan, I beg your forgiveness.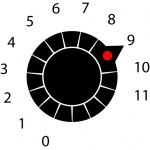 Release Date 11/01/2010