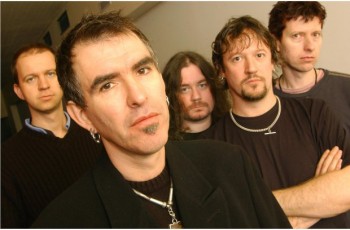 – THE RITZ, MANCHESTER –
I like gigs at the Ritz in Manchester. They're more like events, the ones you should have been at. They are the ones your mates talk about in the pub while you look glumly into your beer. It must be something to do with the history of the place. It's one of the oldest venues in Manchester, and, one of the few that is pretty much unchanged and still with the bouncy dancefloor.
New Model army have played a few gigs in Manchester over the years, but never at The Ritz. This is something that Justin Sullivan, founder member of New Model Army (the Slade The Leveller moniker was dropped decades ago) affirms. "We've been packing you into the MDH at the University and we've never played here – I can't understand why. What a great place"
For the faithful, all NMA gigs are events, gatherings of old friends and new, and a celebration of the longevity of the band.
I haven't seen New Model Army for over ten years at least, so you're not going to get a set list chronology as I don't know a lot of the later material in the set tonight. That said, 'Whirlwind' from the Impurity album is the set opener, and by the end of this first song, Sullivan had broken a string. 'Island' from the 2005 LP Carnival is introduced as being "very appropriate, seeing as we have been towed into the middle of the Atlantic this week by (David) Cameron".
'Christian Militia' heralds a distant blast from the past, but it's never seemed more relevant, or is it that some things in the world of politics never seem to change. 'No Greater Love' follows and there are at least 5 people up on mate's shoulders and four of them are doing that invisible ball juggling thing (see video below).
The anthemic 'Today Is a Good Day' follows but I lose track of the set list at this point as I'm accosted by some fool accusing me dropping one in public (I didn't, actually, dear reader) He's convinced, but I just look at him witheringly.
We witness the first 2-man pyramid combo during 'Vagabonds'. It has been radically reworked with a guitar solo replacing/replicating the violin motif of the original, which works really well.
'No Rest' is always a set highlight and these days it's done like the shorter 7 inch single version (vinyl crate diggers will appreciate the anorak detail of this observation). It starts with Sullivan repeating a single chord faster and faster, at which he admits is starting to sound like 'White Punks On Dope' then the band kick in proper. Everyone is jumping around at this point, it always was a great tune, and tonight it's excellent.
After 'No Rest' ends there are more shout-outs for old favourites and by way of a response the singer responds: "We've written a lot of songs about a lot of stuff, and this one's probably as true as it gets".
'Purity' kicks in.
People on shoulders – 7
Jugglers – 7
Another classic from possibly the best album of their career, Thunder and Consolation, 'The Ballad of Bodmin Pill' closes tonight's set but the inevitable encores follow.
The band returns after some enthusiastic whistling from the audience. Sullivan confesses, "We've not played many shows this year" in acknowledgement of last years 30th Anniversary tour marathon, " so we'd better do some more. Also we promised you an album this year too, but as you get older time becomes more elastic. We are doing a new album and it will be out…" and he pauses as if to say "who knows?"
'Get Me Out' the lead off single from Impurity is an unexpected choice as an encore, I was expecting 'Poison Street' or '51st State' but both are omitted tonight. "We've realised that there's something we forgot to play so we'd better come back and do this" apologises Sullivan. 'Green and Grey' written by the sadly missed Rob Heaton is the final song tonight and it's possibly the definitive New Model Army song.
People on Shoulders – 12
Jugglers – 10
As the songs starts, he doesn't even sing the first verse at all; the crowd does it as one. I don't think there is anyone in the room who doesn't know the words to it. As the band leave the stage, the singer looks at the crowd, drinking in the memory of it, in silent appreciation. There are no words, none are needed.