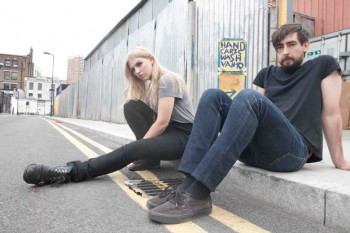 – ST. PHILIP'S CHURCH, SALFORD –
Lovely as this ecclesiastical venue is, my view is partially blocked by a sizeable eagle carving near the chancel, so what follows is filtered via a large, wooden bird of prey. I'm assuming it's an eagle anyway – if you happen to know, don't write in.
Unperturbed by raptor-based view-obscurement, Slow Club take the stage wordlessly and begin playing. Charles' beguiling guitar chimes softly at first, setting the scene for a hushed and intimate gig but suddenly erupts as he belts it with vigour, natural distortion rippling through the hall due to the sheer attack with which he hits the strings.
The second song, current radio staple 'If We're Still Alive', features Rebecca gaily bashing drums and is abetted by an additional guitarist and percussionist lurking near the back of the stage. Now warmed-up, Slow Club emerge from their taciturn torpor and reveal themselves to be amusing, at ease and personable with a pleasant penchant for self-deprecation. Rebecca expresses surprise that she's so nervous, adding that usually she couldn't care less, the minx.
They offer us a sneak preview of an EP to be released in January, via a stripped-down ditty with Rebecca singing lead and playing guitar, Charles standing sentinel until the chorus where he offers his harmonies. Their voices overlap nicely – there isn't a huge chasm between their pitches so it's not always obvious who is singing which part. And why not? A little mystery never hurt, indeed.
The band bounce through an energetic 'Where I'm Waking', bolstered by a bassist and drummer to pound the Bo Diddley beat home, as Rebecca dances with any vestige of inhibition now shed. She notes afterwards that "in a large continuity error, we've gone from a song about lovemaking to song about my Grandad." It's a wryly amusing introduction to 'You, Earth Or Ash', a song that features the night's most assured vocal performance in an evening full of fine singing, with Rebecca throwing her head back and allowing the words to tear out from within, throbbing and soaring into the rapt pews.
Rebecca dryly affirms that "Your wine has arrived, princess" as Charles' mulled festive libation is brought to him, her bandmate having accidentally kicked his glass over and sweetly requested more from the stage. Charles' vocal performances this evening are not restricted to onstage alcohol demands however – tonight, his voice is fuller and warmer than on record and almost as accomplished as Rebecca's. He also quips "Has anyone's date left yet?" after one of the slower numbers.
'Two Cousins' is incendiary, warming the crowd to such an extent that Charles feels he can command us to stand up prior to 'Giving Up On Love'. Thus, the youngest, most-carefree section of the tender-yeared audience throng to the front and commence frugging, as I restrain myself for fear of resembling a leaden uncle at a wedding.
Not one but two encores of Christmas songs follow, one of the featured tunes being 'It's Christmas And You're Boring Me'. Described by Rebecca as "a horrible song", with lyrics such as "I'll wait till New Year to tell you we're through" at least it can't be accused of gloopy Christmas sentiment. The final song is a stomping cover of Darlene Love's yuletide Spector classic 'Christmas (Baby Please Come Home)', Rebecca stating beforehand that she has to go and watch This Is England. A perfectly reasonable sentiment too – your work here is done.