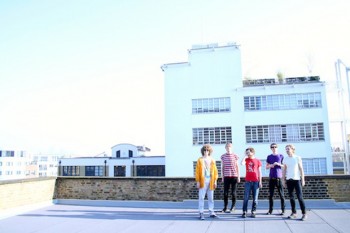 'Never Never' is the first release from Bear Driver's forthcoming as-yet-untitled debut album. Taking influence from bands such as Sparklehorse, The Flaming Lips and Yo La Tengo, Bear Driver write loved-up, fuzzed-up pop that demands your attention. It's the sound of long-lost summers and hazy morning dreams, melodies that embed themselves deep in your subconscious and haunt you for days. To put it in the band's words, Bear Driver make 'sunny-slacker-pop'…
Earlier this year Bear Driver made their US debut at SXSW playing with long time heroes …And You Will Know Us By The Trail Of Dead. Going on to play New York's Mercury Lounge, the band struck lucky during their brief stay: having spent the day walking the winding paths of Central Park in the sleet and fog, Bear Driver found themselves at a Yo La Tengo charity gig featuring David Byrne and Glen Mercer at a tiny bar in nearby Hoboken. Inspired by seeing one of their favourite bands at such close quarters, the wet feet were soon forgotten and Bear Driver returned to the UK determined to record their debut album.
Self-produced by the band, the album was recorded live in three days in an old swimming pool in east London, favoured by Nick Cave and Graham Coxon, then mixed in a flat in Ealing on a home-made computer.
"We wanted to record live so we went up to the Lake District to work on all the new songs before we recorded them. When we got to the studio in London we just played through them all really fast and then listened back to see what we'd got. Most of them ended up being just one take. We found some cool old keyboards there too, a dusty old Wurlitzer piano that we used on 'Never Never', and a bright red Farfisa organ. We took the tracks home and spent a week mixing them, trying to keep as much of the live sound as possible, all the hiss and noise that you get from old mics and amps, and before we knew it we had our album"
'Never Never' is released on the 2nd January as part of a double-A side with another brand new track 'Let The Cold', via Adventure Club. Bear Driver's debut album is due for release in spring 2012.