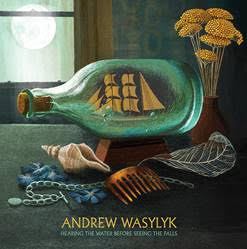 Whenever music, as distinct from lyrics, conjures a sense of place, it is invariably of wide, open spaces rather than the interiors of an office or over-crowded home. Scottish composer Andrew Wasylyk's latest album, 'Hearing the Water Before Seeing the Falls', from its title onwards fits this template but does so with immense beauty, showing a mastery to rank alongside Erland Cooper in this field.
The album was a commissioned response to American landscape photographer Thomas Joshua Cooper's 'At The World's Edge' exhibition at the National Galleries of Scotland. Wasylyk journeyed with him to Inchcolm Island on the Firth of Forth to learn about the artist's practice and his three decades of travel around extreme locations surrounding the Atlantic Ocean, many of which will be under water within 35 years due to the climate emergency.
Opener 'Dreamt in the Current of Leafless Winter' begins with the distant sound of devotional bells and an ominous droning hum. The flutter of saxophonist Alabaster DePlume's impressionistic playing becomes more prominent, wrapping around a piano motif as a gradual, organic unfolding takes places. Drums are so subtle that they initially slip by unnoticed, a double bass drops in a precise note while strings and horns enhance the mood. It is a piece that warrants every one of its sixteen-minute running time.
The remaining six tracks are shorter form, commencing with the title track. Piano is foregrounded, coiled strings mirror the trickle of water and wind instruments repeatedly rise like images of the sun coming up every morning. Having become enveloped in the stately pace, the vibraphone grooving, horn swirling 'Years Beneath a Marrow Moon' is the only track coming in at less than three minutes and is over far too soon. 'The Confluence' has Pete Harvey's soulful arrangement which has echoes of Willie Mitchell's work with Al Green. 'Dusk Above Delphinium Dew' stands proud yet unassuming like a flower.
'The Life of Time' features narration from Cooper in his rich baritone telling of times of memory, forgetting, love, anger and fear, the latter of which is "something I now know more about day by day than I ever thought possible", to a rolling piano motif, sumptuous violin, and Rachel Simpson's melodious brass work. Synthesised arpeggios glide between harp and vibraphone on the final piece, 'Truant in Gossamer' to create an especially dreamy feel but with an ominous tint.
'Hearing the Water Before Seeing the Falls' is an album that deals with elemental fragility yet creates music which provides a soothing balm, choosing to celebrate majesty and wonder.
Andrew Wasylyk: Hearing the Water Before Seeing the Falls – Out 25th November 2022 (Clay Pipe Music)