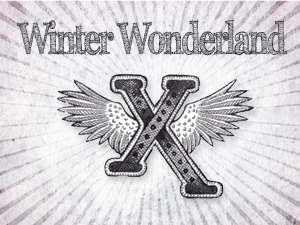 – ACADEMY 1, MANCHESTER –
Compared to last year's raucous festive bash, XFM's 2009 Winter Wonderland proved to be a bit of a bland affair. The presence of three acoustic acts on the bill was definitely a contributory factor to this, as the Academy crowd struggled to get out of first gear.
Local electro-rock outfit Delphic have been included on the BBC's longlist of bands to look out for in 2010. This same prestigious list included Lady Gaga, Little Boots and La Roux last year, so it's quite an accolade to bestow upon them. Tonight they produce a tight and accomplished set which neatly showcases their soaring electronic sound. Their New Order-esque style is pleasant and inoffensive, but ultimately falls short of living up to the hype. Each song fuses into the next and bar the odd catchy hook, fails to leave much of an impact.
Frank Turner is up next, and the premier UK folk-punk troubadour is as captivating as ever. Taking time out from a mammoth European tour, Frank has left his band in a freezing van in Sweden and gone solo tonight. His short acoustic set includes the usual mix of heartfelt anthems on life, love and the state of society, and tracks like 'The Queen Is Dead' and 'The Ballad Of Me And My Friends' sound as bittersweet as always. He doesn't quite win over the whole room, but he stands out as the pick of the acoustic crop.
Liverpudlian legends, Echo And The Bunnymen, prove a massive disappointment this evening. The band takes the concept of mood lighting to new levels as they perform in near darkness amidst a swirl of dry ice. As atmospheric as this may prove, it adds nothing to their already lacklustre stage presence. After a few minutes, you get the sense that this could just as easily be a bunch of people in a room with an Echo CD turned up loud staring into darkness. Hits 'Nothing Ever Lasts Forever' and 'Killing Moon' go down well with the crowd, as does 'The Cutter' until frontman, Ian McCulloch, cuts it short half way through with only a barely audible mumbled explanation. The sombre set receives a lukewarm response from a tiring audience.
Liam Fray, he of The Courteeners fame, is up next with an acoustic set that is well received by the Academy crowd. The popular Manchester group have been favorites of Mancunian legend, Morrissey, for some time now, and they repay the favor with a cover of 'There Is A Light That Never Goes Out' that arguably produces the biggest sing-a-long of the night.
It is down to headliners, The Cribs to rescue the evening, and luckily they rise to the challenge. He gets the crowd moving for the first time, and pack enough raw rock and roll power into their set that it almost makes up for the lethargy that went before. The Jarman brothers easily win over the audience by introducing a certain Mr. Marr on guitar, and announcing "I guess we're a Manchester band now!"
Tracks like 'Cheat On Me' and 'We Were Aborted' whip the pit up into a frenzy and the frantic energy emanating from the stage has a clear influence on the audience. As the boys indulge in a little bit of instrument smashing at the end of their set, it comes as a genuine breath of fresh air after a fairly tepid bash.
The headliners ultimately save the day, but XFM might need to come up with a better line-up next year if they want to maintain the event's popularity.