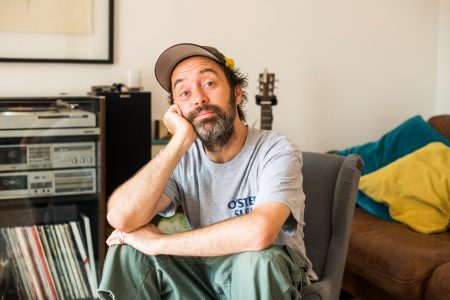 Ahead of releasing two new albums on the same day next month, Beans on Toast has unveiled a new video for one of the songs on one of the albums 'The Album of the Day'.
Written about days spent with his daughter, the lyrics include:
"We put a classic album on and we listened to it back to front, or front to back you know what I mean, the whole thing in its entirety, there'll be no rewind no fast forward, exactly as its creator intended"
The song will feature on the 'Knee Deep In Nostalgia' album, which was produced by Frank Turner. The other album, 'The Unforeseeable Future' was recorded solo by Beans at home during lockdown. He says of that album:
"It comprises a succession of pinpoint social commentaries all inspired by the sh**show that has been the year 2020"
Both albums are self-released on December 1st, which also happens to be Beans on Toast's 40th birthday.
 Beans on Toast Official | Twitter | Facebook | Instagram