Each week, one of our contributors will recommend an artist/band they think deserves to be brought to your attention. No record labels, PR companies, bands or bands management will ever have made these recommendations. It is simply one music fan putting their taste on the line in the hope of sharing good music. The questions are intended to give just a basic introduction to possibly your new favourite artist/band.
So without further ado, let's crack on with this week's introduction, in which Silent Radio's Chris Gilliver recommends AUTUMN OWLS for your audible delectation.
*******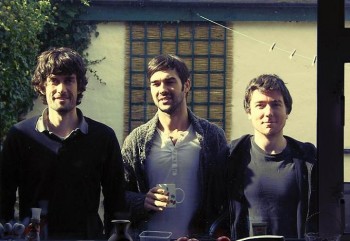 Who are ya?
Gary McFarlane, singer and guitarist in Autumn Owls.
Where are you from?
I'm from the southside of the fair city of Dublin.  That's in Ireland by the way, which is beside the UK for the geographically disinterested.
How long have you been doing what you're doing now?
The band formed in 2006/07 ish I think…Sorry, i struggle with transience.
Is being a musician your full time job?
Yes, Autumn Owls conduct full time shifts in the department of alternative rock.  It's located just between the Finance and Human Resources departments on the second floor of most office buildings.
How would you explain your sound to someone's 90 year old grandmother?
A sleazy Neil Diamond, wearing a cardigan, without out all the choruses.
Are there any obvious influences in your music?
Bands like Califone, Wilco, The  New Year, Jim O Rourke, and Radiohead are not too bad either.
Are there any not so obvious influences in your music?
Large Bodies of water or any significant accumulation of water (such as oceans, seas and lakes) that  usually cover the Earth or another planet.
Apart from yourself of course, what other band/artist would you recommend our readers check out?
The band Wye Oak. They are a 2-piece from Baltimore, Maryland. I saw them in Berlin last week and they were great.  They have three albums and there latest release, Civilian, is a fine collection of songs.
Best place for people to find out what you are up to?
The band's website autumnowls.com might be the best place to listen to tracks and stuff.
Anything to declare?
When i was younger i was quite good at retaining information.