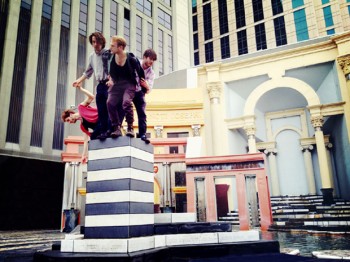 In the weird, hyper-speed blog-world of the 21st century musical underground Fiction's '80's inflected, thoughtful, outsider indie has served to set them apart from a revolving door of faddish trends and fly by night 'scenes'.
Taking a template determined by debut single Curiosity, the London based quintet of James Howard, Mike Barrett, Nick Barrett, Dave Miller and Jacob Smedegaard saw their afro-tinged mash of poly-rhythms pay dividends when second single Big Things was picked up and playlisted by 6music and chosen for an advert by Ford.
With recording for their album underway,  Fiction's multi-instrumentalists honed their live performance with a number of  high profile support slots – Warpaint, Metronomy and Everything Everything – and dropped a new track Careful in the summer – regarded to be "Unquestionably one of the singles of the year so far" by The Sunday Times.
Now, the distillation of eighteen months work, The Big Other produced by Ash Workman and James Ford, is set for release by  Moshi Moshi on March 4th 2013.  Relaxed and more comfortable in itself, with a more restrained exploration of melody and harmony than you'd have guessed from their earlier singles, The Big Other showcases how far Fiction have come in their musical development.
Forthcoming single Museum – premiered by The Guardian "finesses the band's influences in to a more engaging whole" – works as a fitting introduction. Lead track Parting Gesture is – according to the band – "one long sonic ramp and always felt like an introduction to something" whilst the slinking, low-slung and almost groovy bassline of 'Vertigo in Bed' proves yet another highlight.  Album closer The Apple is a homage to Alan Turing, who was persecuted for his homosexuality; it proves a poignant finale to this ambitious and stunningly developed intricate album.