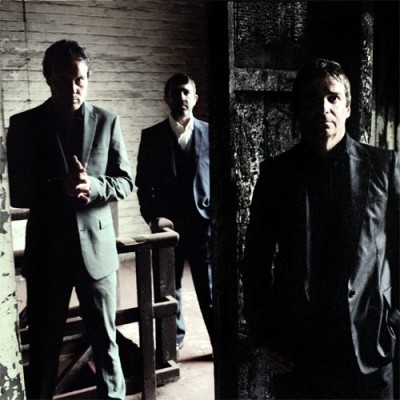 – MANCHESTER CATHEDRAL, MANCHESTER –
There's something resolutely I Am Kloot about the whole thing tonight; the pink snow-bulging sky, the crisp cold air, the none-more stately venue. It's a slightly disorienting experience for sure. The bar area is set around an imposing white marble figurine, stone memorials looming down from the walls. Spotlights occasionally pick out gargoyles leering down from the roof. The walk for the toilets takes you back outside, into the snow. And you don't get that in the Roadhouse now, do you?
I'm trying to work out whether I Am Kloot are here celebrating their most successful year to date or whether, Mercury Prize nomination notwithstanding, really not that much has changed. This year's 'Sky At Night' album was a shimmering collection of northern drunken romance and disaster. But then so were the previous four albums. And I arrive at a conclusion; I Am Kloot are your musical best mate – they don't go changing, you can rely on them and they're always…well, just there. And, man, life would be that bit poorer without them.
Kloot stroll onto the stage at a respectably civilised 8:30pm to a heroic hometown welcome. The audience hunkers together between the cathedral's gothic arches and Jonny Bramwell picks out the opening bars of 'Northern Skies'. It's clear straightaway that any concerns anyone might have had about the acoustics in this off-beat venue are wide of the mark – the sound is full and clear, the supporting cast of string section, keyboards and guitar fully realising that lush production on 'Sky At Night'. (Incidentally, Elbow's Craig Potter and Guy Garvey, providers that that production, are here in attendance, Garvey unashamedly singing along; fan, not too-cool-for-school rock star – an edifying sight). Bramwell draws the song to a close and raises an enormous glass of red wine to his congregation. "You can drink!" he exclaims, echoing the relief of everyone.
'To The Brink' is cryptically announced as a new song, to cheers ("Thanks for your optimism," deadpans Bramwell) that morph into familiar recognition, Bramwell's cracked tenor capturing the exasperation of his lyrics. His guitar gives up the ghost before next song, 'The Stars Look Familiar' from 2005's 'Gods and Monsters' album but Jonny's main concern seems to be the fact that he's lost his glass of wine. Sound (and wine) restored, Kloot continue their trek through a hefty 2 hour, 23 song chunk of their back catalogue.
And if I'm honest, the set sags a little in the middle – there's almost a gratuitous yearning to bulk the set out, and some of the earlier material pales a bit against the songs from 'Sky At Night'. Not that Manchester appears overly bothered, howling it's appreciation with zeal. The evening's standout point, however, comes with the plaintive 'I Still Do' – greeted not with cheers, but with respectful, reverential applause, Bramwell's rich tones weaving gloriously through the arches. From there it's a coast all the way home. "Well I guess that I've been signing all my life/That is right/That is fine," he sings on 'Fingerprints', backed up by a boozy Mancunian choir. 'Proof's delicate opening builds into a skiffle shuffle and a small sea of bobbing heads.
Old favourite 'Twist' sees the incongruous sight of Jonny Bramwell on a stage in a cathedral, issuing forth the declaration "There's blood on your legs/I love you." And 'One Man Brawl' from the '…Play Moolah Rouge' album brings Kloot's sermon to a riotous, righteous end. There's just time for a one song encore – the brass-laden, downtrodden 'Same Shoes' – before the congregation exits into the white Manchester streets. It's stopped snowing. The streets are quiet. I Am Kloot are still your best mates. Everything's alright with the world.