Mark Morriss was the front man of Brit indie outfit The Bluetones (1993 – 2011 RIP) and most fondly remembered for making a duffle coat look well hot. Probably equally so, the band were responsible for some of the best loved songs that helped to shape one of the most iconic eras of British music.
At 16, my first "proper" gig was The Bluetones; meaning it was the only live music performance I'd been to where I hadn't made a glittery banner, or shouted 'he's behind you'. After it I thought, 'well this gig malarkey's bloody brilliant' and the rest is history.
The venue for tonight's gig is the Tiger Lounge. I'm a big fan of this little basement bar; with its kitsch retro vibes, cracking music and reasonably priced bar. Actually, sod the vintage flock wallpaper; it's the three quid rum and coke I'm after. I've spent a fair few Saturday nights at the Tiger Lounge, but it's the first time I've been to a gig here. I'm well excited.
The place fills up nicely as a solo Morriss takes to the tiny stage, under a blue hue from the stage lights (either the stage managers having a laugh or its pure coincidence) and his cheeky banter begins, "..there's some new stuff and some old shit; so you can reminisce about your uni years and tell me later about how that song means so much to you…because those stories never get old…"
Tonight's a trip down memory lane for the bulk of the crowd here this evening. Back to 1995 where The Bluetones forged the soundtrack to their coming of age; a far cry from all this grown up shite of arranging babysitters, mortgages and children and stuff.
He throws in a few classic, crowd-pleasing numbers from The Bluetones back catalogue, including 'Keep The Home Fires Burning', 'Bluetonic', 'Marblehead Johnson' and of course, 'Slight Return', which he adds is to, "To buy some time to play some newer stuff."
Each ensue a mass sing-a-long from the audience. Even though they're songs he's sung a million times, he performs them in a passionate, stripped-down fashion. I don't know what it is about live acoustic renditions that make songs sound dead special.
This small gig gives Morriss the opportunity to flex his solo efforts with tracks from  his 2008 debut album Memory Muscle, with a gorgeous, crystal clear version of Teenage Fanclub's Alcoholiday and his first solo single 'I'm Sick'. It's minus the mariachi meets spaghetti western vibe from the recorded version, but what remains is the narrative-heavy lyrics and gorgeous vocal delivery we've all grown to love from Mr Morris.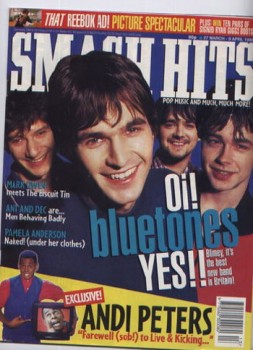 He might have shared a stage with four other guys for almost twenty years, but Morris tonight sounds and looks confident up there on his own. Plus, his crack between tracks is genuinely funny, combined with a continuous onslaught of free Sambuca shots bought for him by the audience.
Although, half way through the set me and my gig buddy are forced to move nearer to the front because we're struggling to hear. A few bell-ends behind us have decided to sack off the main feature and just have a full blown conversation instead. I think that a gig on this level; i.e. a small venue, fully acoustic, 'one man on the stage' affair, deserves a certain level of respect. Plus, when the main foghorn turns out to be the venue's DJ, I wonder if I should stick around later and jump up and down in front of his decks. It didn't seem to bother Mark, but it right fucked us right off.
Tonight we're also privy to a sneak preview of his new album A Flash of Darkness, out early next year. Including the stand-out tracks 'It's Hard to Be Good All The Time', a slow burner with typical-Morris-esq sing-a-long chorus and the new single 'Consuela'. Whether the maid from Family Guy makes in appearance in the video is yet to be confirmed.
A surprising highlight for me tonight is Morriss's cover of the 80's pop classic 'Rio'. Even more joyous than an acoustic version of a Duran Duran song, is watching grown men mouth every single lyric.
It's not just the blokes getting in on the action; many of the ladies here tonight are gazing dreamily at the stage, as our evening with Mark Morris comes to a close with the ageless Bluetone's number 'Sleazy Bed Track'.
The gig scores big, obvious brownie points from me tonight, from the smattering of classic tracks, a taster of his new material and his beard. And to top it off, Mark Morris comes across as a lovely fella, from the chuckles between tracks to him kicking around well after the gig to chat to the grown-ups.
See, it pays to be nice.
Mark Morris supports Shed 7 this December, including this Saturday at Manchester Academy.