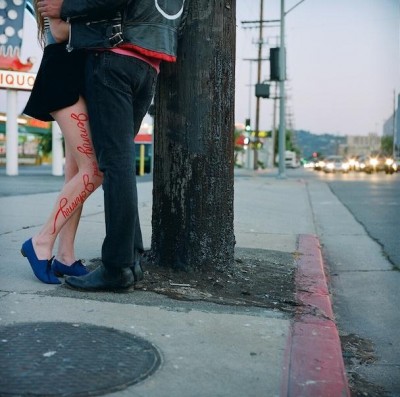 – THE RUBY LOUNGE, MANCHESTER –
John and Yoko. Sonny and Cher. Er, them out of ABBA. Some of history's best-loved music has been born from real-life couples, and you'd be forgiven for thinking this pair had been making more then just sweet music for longer than a couple of years.
She is Jenny Lewis; pint-sized cougar and former frontwoman of cult Saddle Creek pop-outfit Rilo Kiley. He is Jonathan Rice; brooding, guitar-toting indie poster-boy, arguably more famous for a blink-and-you'll-miss-it cameo as Roy Orbison in 2005's Johnny Cash biopic 'Walk the Line'.
One look at the pair tonight and you'd be forgiven for wondering if he'd done a better job than Joaquin Phoenix himself. "I'm gonna dedicate this song to all the people standing behind the disco pillar" he motions towards the ungainly silver-tiled bollard holding up the ceiling in the centre of the room "Who paid money for a ticket and can't see shit".
'Committed' kicks off the set, a blistering, his n' hers sing-song that pounds like the dirty, country-tinged cousin of 'I Fought the Law' having a punch-up with Status Quo's 'Whatever You Want'. In a good way.
Despite spending a chunk of his early life growing up in Glasgow, Rice shows no obvious Briticisms, and remains serious in the face of cheeky Northern humour. "Our guitarists' favourite band is from Manchester. He has a tattoo" he drawls in a nonchalant, West Virginian slur "Can you guess who it is?" The room falls silent as one heckler pipes up "M-People?"
Bemused, the pair continue their set with little more than a wry smile. Asking the audience what they'd like to hear next, suggestions from the (bordering-on-lecherous, male dominated) audience include various Rilo Kiley offerings, singles from Lewis' two solo records and a lone request for one of Rice's songs.
Despite her clearly being the more in-demand of the two, they share vocal duties and banter like a modern-day Johnny n' June. "What shall we play for them next?" she trills with Monroe-esque breathlessness. "Well, I don't know Jenny" he croons "How about that jam you got about bein' a girl?" before launching into newly-written 'Just One of the Guys' and the soaring 'Big Wave'.
Rilo's drummer Jason Boesel is part of the touring band, and is technically brilliant, drum-filling his way through the jerky stop-starts of 'The Next Messiah' with ease. A dreamy cover of Nazareth's 'Love Hurts' is a highlight, before the duo round off the set with 'Carpetbaggers' from Lewis' sophomore album 'Acid Tongue'. Rice's voice cracks as he strains to emulate the original Elvis Costello cameo – despite having written the song himself – but their voices slot together effortlessly, each knowing when to take a back-seat and let the other take the lead.
"That one was for Morrissey. Viva hate" he deadpans as the reverberating guitars fade out. Rice and Lewis have evidently found more than their musical equal in one another, her faux girly eyelash-fluttering the missing puzzle piece to his Boy With the Stick Up His Arse moodiness. It's difficult to remember how Jen and John were once two separate entities, but tonight they sound all the better for it.