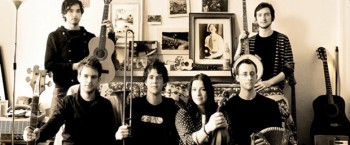 "Scottish supergroup", The Moth & The Mirror, released their debut album Honestly, This World earlier via Olive Grove Records this month.
The Moth & The Mirror comprise of members taken from an array of Scottish talent including: Stacey Sievwright from The Reindeer Section and Arab Strap (vocals/guitar), Gordon Skene from Frightened Rabbit (guitar/vocals), Louis Abbott from Admiral Fallow and Song of Return (guitar/vocals) Kevin McCarvel (bass), Iain Sandilands (percussion) and Peter Murch (drums).
Honestly, This World is the band's debut album following on from their first official release, the single, Germany. It's a melodic tour de force; the arrangement of the backing track creating deeply textured soundscapes that elevate Stacey's vocals to a transcendental plateau to captivate the listener. Tracks like "Boxes" showcase The Moth & The Mirror's ability to strip a song down to its very basics, before exploding into a glorious shower of noise and distortion. As a whole, the album works like a well oiled machine, each track feeding into the next to create an experience that's more than the sum of all its parts.